Wild Equity has been calling for new National Parks for a long time — especially at the notorious Sharp Park in Pacifica — and as it turns out, we're not the only ones! Numerous organizations and constituencies have banded together in different areas of the country to expand the U.S. National Parks system. One of these organizations, RESTORE, has recently put together a campaign called New National Parks that is dedicated to celebrating the National Park Service's 100th anniversary in an extraorindary and creative way.
From their website:
In 2016, Americans will celebrate the 100th anniversary of the National Park Service. There could be no better time for a bold campaign to expand the National Park System for the next century. Why not 100 new parks — or more — to mark the centennial? Such a campaign can inspire conservationists, rally public support, and convince Congress and the president to take positive action. Future generations will thank us for having the foresight to save our unprotected natural and historic treasures as their priceless national park legacy.
This is the vision of the New National Parks (NNP) campaign.
And wouldn't you know it? The New National Parks campaign has elected to highlight Sharp Park as one of their potential candidates! Sharp Park is the perfect location for a National Parks expansion, for both environmental, economic, and recreational reasons. We're honored to have our concept for a newly restored Sharp Park featured as a candidate for this delightful and timely project. Best of luck in getting those 100 parks established! We certainly need them!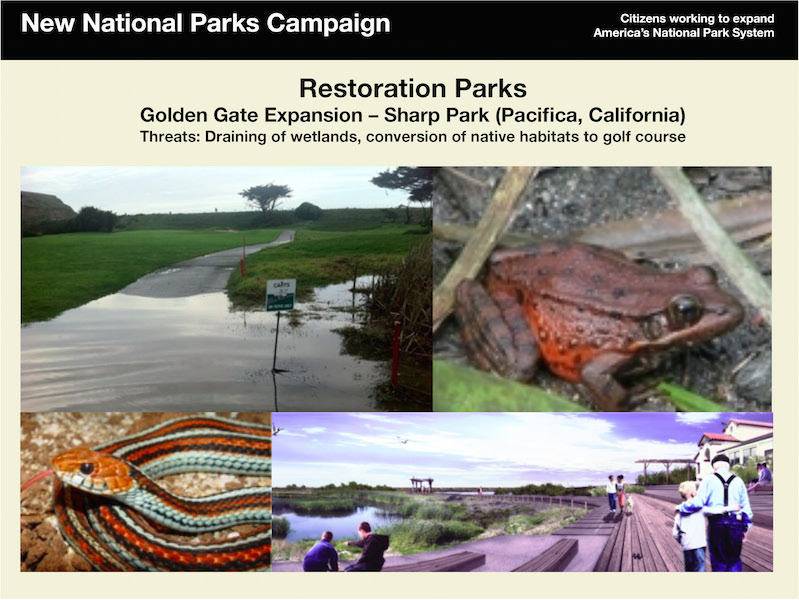 https://i0.wp.com/www.wildequity.org/wp-content/uploads/rs-archive/images/8522_America_Needs_More_NPs_Sharp_Park.jpg?fit=799%2C600&ssl=1
600
799
Wild Equity
https://www.wildequity.org/wp-content/uploads/2016/01/transparent-logo.png
Wild Equity
2015-03-28 00:20:55
2020-08-14 19:59:54
100 Parks for 100 Years!