El Nino Wreaks Havoc Upon Pacifica and Sharp Park Golf Course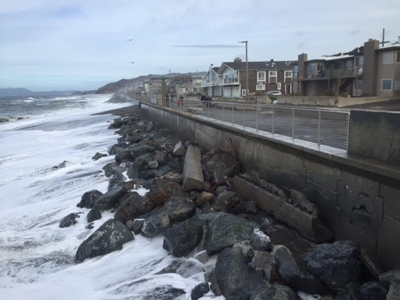 Pacifica is in a state of emergency after heavy El Nino storms have posed a significant risk to the safety of seaside residents. But this is no first: Pacifica residents have previously been evacuated as a precautionary measure when storms have jeopardized the safety of Pacificans and their homes. This time around, El Nino has caused sections of the cliffside to collapse (a video of which can be seen here) and temporary closures at Sharp Park Golf Course, as seasonal flooding and high winds created substantial safety hazards for golfers.
But the harsh weather may cause more trouble for the golf course than just wet fairways and falling trees: the California Coastal Commission has provided Sharp Park Golf Course with a condition that dictates that the golf infrastructure must be permanently removed should Sharp Park Golf Course be threatened by coastal surges. With several more months of El Nino to go, Sharp Park Golf Course's days may be numbered.
In addition to all of the climate-related risks associated with operating the course, Sharp Park Golf Course has lost nearly 1.8 million dollars since 2004, and keeping it open is a sure way to further lose hundreds of thousands of taxpayer dollars that could be better invested in the best interest of the public.
Meanwhile, if Sharp Park Golf Course was closed down and the wetlands restored, it would help the city of Pacifica adapt to sea level rise (as wetlands "break up" wave energy), and improve habitat conditions for the federally protected California Red-Legged Frog and San Francisco Garter Snake. The lands could then ultimately be repurposed as a publicly accessible national park, providing locals with an abundance of recreational opportunities, and the city of Pacifica with an opportunity to increase tourism-based revenue. Restoring Sharp Park would have countless benefits, which you can read about here.
Keeping Sharp Park Golf Course open is an abominable idea- don't let San Francisco keep pouring taxpayer dollars into this unprofitable and ecologically hostile golf course. Click here to take action and learn more about our mission to restore Sharp Park.
https://i0.wp.com/www.wildequity.org/wp-content/uploads/rs-archive/images/8816_Pacifica.jpg?fit=640%2C480&ssl=1
480
640
Wild Equity
https://www.wildequity.org/wp-content/uploads/2016/01/transparent-logo.png
Wild Equity
2016-01-26 21:16:42
2020-08-14 19:18:44
El Nino Wreaks Havoc Upon Pacifica and Sharp Park Golf Course