Golf courses across the nation are suffering from a quintessential economic problem: too much supply and not enough demand. How the game responds to this problem may define its trajectory in American sport for decades to come.
As articles in the LA Times and the New York Times recently explained, golf developers expected Tiger Woods to drive golf demand to new heights when he joined the PGA tour. In anticipation, developers built additional golf courses. And then a few more, and a few more after that.
However, for a variety of reasons—the time-constrained nature of modern-day life, Lance Armstrong and the growth of cycling, the rise of self-directed activities like Yoga, and other unanticipated factors—the demand never materialized.
Suddenly the game had too many golf courses and not enough golfers to play them. The Bay Area golf market in particular is overbuilt: it supplies 6 million more rounds annually than golfers demand. Under these market conditions, golf courses will close: the only question is which ones. If we subsidize under-performing, low-quality courses, we will force better courses to close instead, and the future of golf will suffer as its best courses are lost.
This is why restoring Sharp Park is good for the game of golf. Sharp Park Golf Course is an under-performing golf course that gets failing grades from the National Golf Foundation in nearly every category it measures. And the golf course kills endangered species to boot, injuring the game's already bruised environmental image. If we continue to subsidize Sharp Park Golf Course with taxpayer bailouts, other, better Bay Area golf courses will be forced to close, and the quality of golf we provide will be degraded.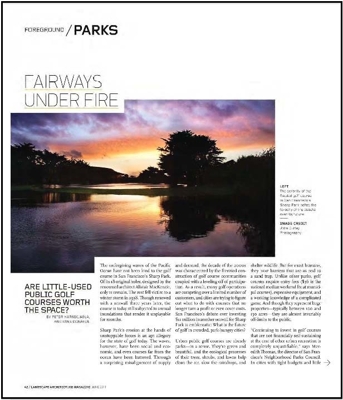 The June Landscape Architecture Magazine highlights Sharp Park Golf Course
and the opportunities presented by the oversupply of golf courses.
As demand for golf declines, communities around the country are repurposing under-performing golf courses to create better public parks.
This June, Landscape Architecture Magazine featured Sharp Park as an opportunity to restore balance to the golf market while improving access to public parks in urban areas. It's a sound idea who's time has come: San Francisco Supervisor John Avalos is nearing completion on an ordinance to restore Sharp Park in partnership with the adjacent land owner, the National Park Service. The legislation will allow San Francisco to redirect the money it currently loses at Sharp Park to other parks and services facing deep cuts; it will provide recreation opportunities on the land that everyone can enjoy; and it will ensure endangered species habitats are protected from harmful activities and adapt to sea level rise and climate change.
In contrast, the City of Burbank recently bailed out its money-losing municipal golf course while imposing $8.7 million dollars in cuts to libraries and other city services. This is not only an inequitable approach, but also unsustainable. Golf courses simply must close if demand and supply are to reach equilibrium again, and bailing out low quality courses only ensures that better courses will close instead. That's why we should thank Supervisor John Avalos for introducing legislation to restore Sharp Park: it's not only good for our communities, it also ensures the game of golf will exit this market crisis in the best shape possible.
https://www.wildequity.org/wp-content/uploads/2016/01/transparent-logo.png
0
0
Wild Equity
https://www.wildequity.org/wp-content/uploads/2016/01/transparent-logo.png
Wild Equity
2011-07-18 07:51:04
2020-08-14 21:32:29
Golfonomics 101