Lawsuit Launched to Protect the Lange's Metalmark Butterfly from PG&E Power Plant
December 28, 2010
FOR IMMEDIATE RELEASE
CONTACT: Brent Plater, Wild Equity Institute, 415-572-6989
Lawsuit Launched to Protect the Lange's Metalmark Butterfly from PG&E Power Plant
Nitrogen Emissions Threaten Survival of Critically Endangered Butterfly
ANTIOCH, CA— Today the Wild Equity Institute filed a formal notice of intent to sue the Environmental Protection Agency for issuing air pollution permits to PG&E's Gateway Generating Station without first evaluating the power plant's impacts on the Lange's Metalmark Butterfly, an endangered species whose only home is less than a mile away from the Gateway Generating Station.
"When the EPA takes short cuts with environmental health, disadvantaged communities and wildlife often suffer the most," said Brent Plater, Executive Director of the Wild Equity Institute. "Today's action will help us create a healthier environment for people and for the plants and animals that accompany us on Earth."
The Gateway Generating Station is a 530 megawatt natural gas power plant located in Antioch, California. Mirant Corporation received permits to construct and operate the plant in 2001, but suspended construction after the California energy crisis ended. The unfinished plant was acquired by PG&E in 2006: after the construction and air pollution permits expired. PG&E nonetheless completed construction and began operating the plant. When community groups impacted by the pollution from the plant objected, the EPA offered to reissue the permits: without going through the requisite permitting process, a process designed to protect public health and endangered species from harm.
Lange's Metalmark Butterfly. Photo © USFWS.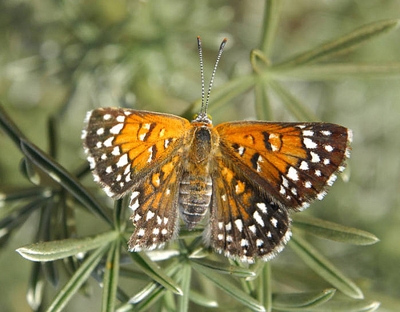 The Lange's Metalmark Butterfly is a brightly colored, fragile, and highly endangered butterfly that has been protected by the Federal Endangered Species Act since 1976. The species is endemic to the Antioch Dunes in Contra Costa County: a relict desert landscape left behind as California's prehistoric deserts retreated from the Bay Area 140,000 years ago. Because of the Antioch Dunes' isolation from its nearest habitat contemporaries, many species found in the Dunes are unique—and very rare.
The sole food plant for the Lange's caterpillar is the naked-stemmed buckwheat, a native plant adapted to survive in the nutrient-poor soils found in the Antioch Dunes. The Butterfly's population is dependent on this plant. But nitrogen emissions from the Gateway Generating Station and other sources are changing the chemical composition of the dune soil, and invasive weeds are now so common that they are crowding out the Dune's indigenous flora and fauna. The United States Fish and Wildlife Service has already determined that nitrogen emissions from power plants near the Dunes are "virtually certain" to cause harm to endangered species.
"For too long pollution from power plants have threatened the Butterfly's very survival," said Plater. "It's time for PG&E and the EPA to become part of the solution, and the best way to do that is through the Endangered Species Act, our nation's best defense for plants and animals on the brink of extinction."
The Wild Equity Institute is building a healthy and sustainable global community for people
and the plants and animals that accompany us on Earth.
https://www.wildequity.org/
###
https://i0.wp.com/www.wildequity.org/wp-content/uploads/rs-archive/images/5306_5038886543_e956371e1d.jpg?fit=500%2C390&ssl=1
390
500
Wild Equity
https://www.wildequity.org/wp-content/uploads/2016/01/transparent-logo.png
Wild Equity
2010-12-28 18:27:19
2020-08-15 16:14:31
Lawsuit Launched to Protect the Lange's Metalmark Butterfly from PG&E Power Plant