Postmaster to SF: Control Your Dogs Or I'll Stop Mail Delivery
Here's a riddle: which San Francisco public official is the strongest advocate for responsible dog ownership?
The Director of San Francisco Animal Care and Control? Nope. The Director has encouraged irresponsible, unsafe off-leash dog activity in San Francisco for years.
The Director of San Francisco's Recreation and Park Department? No way. RPD's existing leadership has been openly hostile to responsible dog ownership, even attacking areas with sound pet management practices like the Golden Gate National Recreation Area.
The leadership at the SFSPCA and the balkanized Dog Owner Groups in the City? Hardly. They're openly hostile to responsible dog ownership, preferring to let dogs get injured and killed first, and only then address unsafe conditions. Of course by then it's too late.
Answer: the Postmaster! Check out this letter recently sent to all San Francisco residents threatening to stop mail delivery if dogs aren't controlled in the City: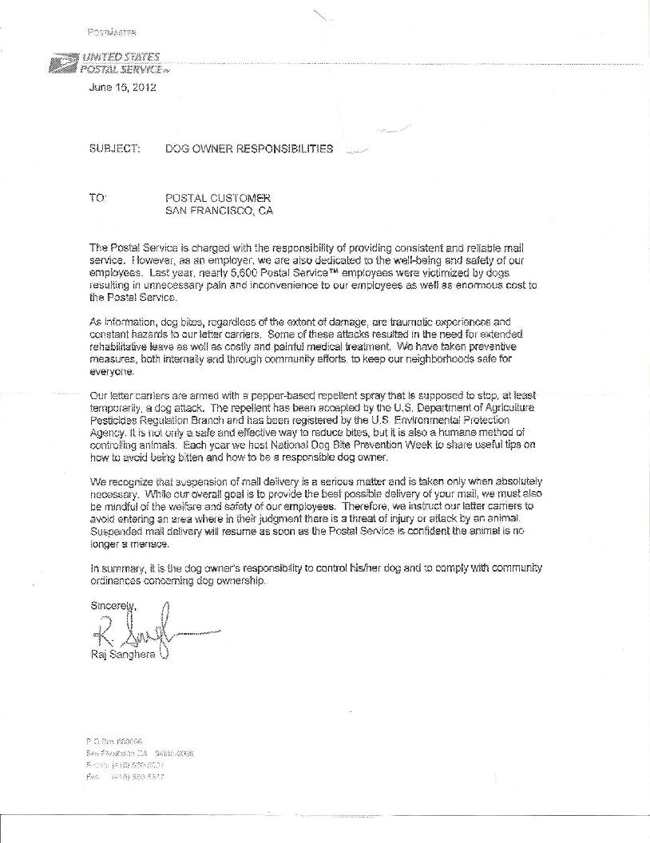 Click the image for a .pdf of the letter.
It's a pretty sad state when the toughest dog cop in the City is the mail carrier. But it's no wonder: San Francisco's failure to enforce leash laws leaves mail carriers with few other options but to stop delivering the mail.
https://www.wildequity.org/wp-content/uploads/2016/01/transparent-logo.png
0
0
Wild Equity
https://www.wildequity.org/wp-content/uploads/2016/01/transparent-logo.png
Wild Equity
2012-08-23 06:10:58
2020-08-15 22:53:55
Postmaster to SF: Control Your Dogs Or I'll Stop Mail Delivery