Tell the Feds You Support Protecting the Franciscan Manzanita Today
Reviewing the 50 or so comments submitted to protect the Franciscan manzanita has been a heartwarming exercise: it gives us hope for a healthy and sustainable global community for people and the plants and animals that accompany us on Earth.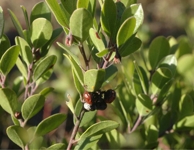 The Franciscan Manzanita
Of course, there's always this guy:
"$175,000 to move a plant? Are you serious? I think that money is better spent on the TAX PAYERS rather than a PLANT which was quite fine where it already was! Come on, really?? Who comes up with these kind of decisions? Give us better roads, feed the homeless, or at least do SOMETHING productive with OUR money."
Yes, that's an actual quote from the public record.
If you haven't yet, make sure you get your comments in supporting Endangered Species Act protections for the Franciscan manzanita. Comments can be submitted at http://www.regulations.gov. In the box that reads "Enter Keyword or ID", commenters must enter the docket number for the Franciscan manzanita finding [FWS-R8-ES-2010-0049], check the box that reads "Open for Comment/Submission", and then click the Search button. An icon that reads "Submit a Comment" will be returned: click it and enter your comments on the site. The deadline is only a month away.
The protection proposal was prompted by the Wild Equity Institute's formal administrative petition to protect the species shortly after it was rediscovered in the wild by Dr. Daniel Gluesenkamp inside the Presidio Trust in San Francisco, nearly 70 years after it was deemed extinct in the wild. The Center for Biological Diversity and the California Native Plant Society co-petitioned for the protections.
If you like our work please consider supporting us with a donation today. We'll make sure that the funds go towards providing scientifically-sound comments on the listing proposal and protecting the species for future generations to enjoy.
https://www.wildequity.org/wp-content/uploads/2016/01/transparent-logo.png
0
0
Wild Equity
https://www.wildequity.org/wp-content/uploads/2016/01/transparent-logo.png
Wild Equity
2011-01-11 23:27:16
2020-08-15 16:15:48
Tell the Feds You Support Protecting the Franciscan Manzanita Today