WEI Engages Allies to Restore Sharp Park
As San Francisco proposes massive cuts to city services, more and more residents are demanding that San Francisco close the money-losing, endangered species-killing Sharp Park Golf Course.
WEI Allies: Bring Our Money Back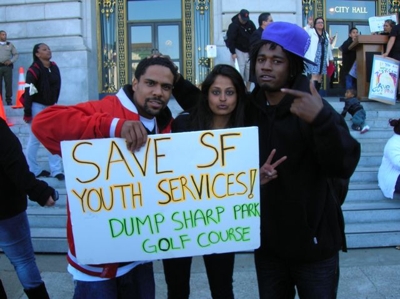 San Francisco is proposing massive cuts to youth services while privatizing our parks and open spaces. These cuts will disproportionately impact poor, disenfranchised communities in San Francisco, precisely when services are needed to offset the impacts of the financial crisis.
Yet at Sharp Park, San Francisco continues to subsidize suburban golf in San Mateo County by up to $300,000 each year, and is planning to spend tens-of-millions more to try and build an elite golf course on the property.
This gamble on golf is not only environmentally unsound, but fundamentally unfair when San Francisco taxpayers are facing cuts in services they desperately need.
This is why residents throughout San Francisco are demanding that San Francisco close Sharp Park Golf Course and give the property to the National Park Service. by dumping this money-losing golf course, San Francisco can free-up funds for neighborhood services, services that would otherwise face further cuts.
You can be part of the solution by demanding a more equitable budget on Wednesday, May 26, at 2:00pm. Join us at Civic Center Plaza to ask public officials for a budget that protects people and our environment, not suburban golf in San Mateo County.
https://www.wildequity.org/wp-content/uploads/2016/01/transparent-logo.png
0
0
Wild Equity
https://www.wildequity.org/wp-content/uploads/2016/01/transparent-logo.png
Wild Equity
2011-01-11 23:50:59
2020-08-14 21:07:46
WEI Engages Allies to Restore Sharp Park