Wild Equity Catches Agency Rubber-Stamping Permits to Kill Endangered Species
For Immediate Release, July 31, 2013
Contacts:
Brent Plater, Wild Equity Institute, (415) 572-6989
Mike Lynes, Golden Gate Audubon Society, (510) 843-9912
Fish And Wildlife Service Caught Rubber-Stamping
Permits To Kill Endangered Species
Lawsuit launched to end back-room deals for industry consultants
SAN
FRANCISCO
,
Calif.
— Conservation groups today filed a
formal notice of intent to sue
the U.S. Fish and Wildlife Service for quietly rubber-stamping permits for industry consultants to kill endangered species.  The practice has been going on for years, but was only recently discovered because the Service had avoided public notice and comment procedures that typically apply to endangered species permitting processes. 
"What is the Fish and Wildlife Service afraid of?" asked Brent Plater, executive director of the Wild Equity Institute. "If the activities of the industry consultants can't withstand the light of day, then the Service shouldn't be permitting them."
The Wild Equity Institute discovered the practice when it attempted to submit comments on a permit for Swaim Biological Inc., a private, for-profit firm that was issued an endangered species permit for work at Sharp Park Golf Course.
In 2011, biologists from San Francisco State University observed Sharp Park Golf Course's wetlands being pumped out and drained in a project overseen by Swaim Biological. Disastrously, this draining exposed dozens of California red-legged frog egg masses to the air, killing them and jeopardizing an entire generation of this protected species. The biologists witnessed several of these dead egg masses and identified their location.
The SFSU biologists immediately informed Swaim Biological's staff of the wanton destruction of this protected species.  When the SFSU biologists returned to the site in the next days, the dead egg masses were gone.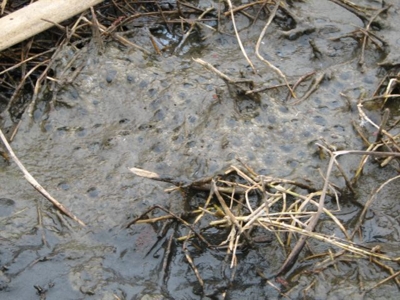 A desiccated California Red-legged Frog egg mass at Sharp Park.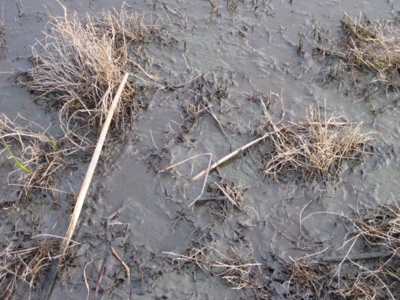 The identical location showing egg mass was removed.
The Wild Equity Institute was attempting to report the incident to the Service when it learned that Swaim Biological's permit to manage endangered species needed renewal. Wild Equity asked that the Service investigate that matter further, but the organization was told that the Service had already reissued the permit without any oversight or public notice and comment. Wild Equity was further told that the agency routinely renewed permits for industry consultants without any public oversight, and had been doing so for years.
Swaim Biological had a limited permit to harm endangered species pursuant to the Endangered Species Act, Section 10(a)(1)(A).  Under Section 10(c), all permits to harm endangered species must go through a public notice and comment period before they are issued or are renewed, and the Service must determine if permit terms and conditions are complied with before renewing permits under these provisions. The Service failed to follow this procedure thus allowing a consultant to receive a permit without first conducting an investigation into whether the applicable permit standards were met.
"Public review of endangered species take permits is essential, especially where there is a history of questionable management that has resulted in direct take of protected species," said Mike Lynes, executive director of Golden Gate Audubon Society. "But, instead, the Service appears to be rubber-stamping permits for industry consultants to kill endangered wildlife without public oversight. The Service's process should be open and transparent before another generation of endangered species is lost."
Background
The California red-legged frog, Rana draytonii, is the largest frog native to the western United States. It has been lost from over 70% of its historic range, and has suffered a 90% population decline. It is currently only found in select coastal drainages from Marin County south to Baja California, with a few isolated populations near the Sierra Nevadas and the Transverse ranges. In 1996, the Fish and Wildlife Service listed the California red-legged frog as a threatened species under the ESA.
Under section 10(a)(1)(A) of the ESA, agencies such as the Fish and Wildlife Service may issue permits to industry consultants if they claim that their work will "enhance the propagation or survival of species listed as threatened or endangered under the ESA." These permits allow the permit holder to harass, harm, pursue, kill, trap, capture, or collect endangered species.  In part because of the breadth of these permits, applications for such permits, whether new, amended, or renewals without changes, must be published in the Federal Register and the public must be given an opportunity to submit comments, as required under 16 USC § 1539(c), 50 C.F.R. § 17.22, and the Fish and Wildlife Service's own Director's Order 143.  But the Fish and Wildlife Service in several regions has adopted a policy to avoid all public oversight for permit renewals so long as the permittee did not request any changes to its original permit.  This policy allowed permits to industry consultants to be renewed indefinitely and without any public oversight in perpetuity, and precluded the Service from receiving new information about the permittee's qualifications or activities.
The Wild Equity Institute is building a healthy and sustainable global community for people
and the plants and animals that accompany us on Earth.

https://www.wildequity.org/wp-content/uploads/2016/01/transparent-logo.png
0
0
Wild Equity
https://www.wildequity.org/wp-content/uploads/2016/01/transparent-logo.png
Wild Equity
2013-07-31 20:06:24
2020-08-14 22:00:57
Wild Equity Catches Agency Rubber-Stamping Permits to Kill Endangered Species