2015: Another Year of Losses at Sharp Park Golf Course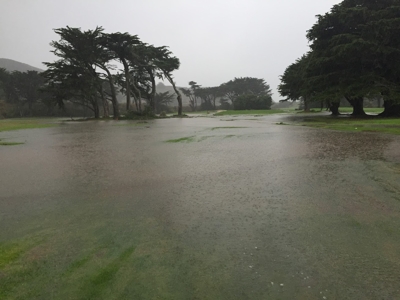 Sharp Park Golf Course has little value proposition, especially during annual winter flooding
San Francisco's money-losing, endangered species killing Sharp Park Golf Course once again left City taxpayers with a whopping bill at the close of this fiscal year, bringing the grand total of taxpayer subsidy to 1.8 million dollars over the past decade- losing $160,467.16 per year, on average.
Fiscal Year

RPD

Sharp Park Golf Course Losses
04/05
– $110,299.00
05/06
– $338,025.60
06/07
– $64,685.80
07/08
– $119,758.00
08/09
$29,446.40
09/10
– $134,699.80
10/11
– $161,217.20
11/12
– $245,007.40
12/13
– $111,289.20
13/14
– $151,269.80
14/15
– $358,333.40

TOTALS

– $1,765,138.80
Sharp Park Golf Course cost the city over $350,000 in fiscal year 2014-2015 alone– if losses continue at this rate, San Francisco taxpayers can expect to have to cough up another $1.6 million over the next 10 years in order to subsidize further operations at SPGC.
In addition, we should acknowledge that the costs associated with Sharp Park Golf Course are expected to increase in the coming years. As Wild Equity has noted in the past, the cost of operating Sharp Park Golf Course in the coming years is expected to be nearly $48.8 million, costs including: the $1.6 million noted above, $12-14 million for a full renovation, $32 million to restore the seawall for protection from storms, erosion, and sea level rise, and $1.2 million in permitting, habitat restoration, and construction relating to the Sharp Park Safety, Infrastructure Improvement, and Habitat Enhancement Project.
Sharp Park Golf Course should be able to cover its operating costs with the money that it brings in each year, but has consistently failed to do so. This financial burden to taxpayers is unacceptable.

Why spend all this money in a failing golf course when we can instead restore Sharp Park at no cost to the city? Don't let San Francisco keep pouring taxpayer dollars into this unprofitable golf course. Click here to find out how you can take action and help our campaign to restore Sharp Park.
https://www.wildequity.org/wp-content/uploads/2016/01/transparent-logo.png
0
0
Wild Equity
https://www.wildequity.org/wp-content/uploads/2016/01/transparent-logo.png
Wild Equity
2016-01-06 19:44:16
2020-08-14 19:06:24
2015: Another Year of Losses at Sharp Park Golf Course