Another Wetland Restoration Success Story: South Bay Salt Ponds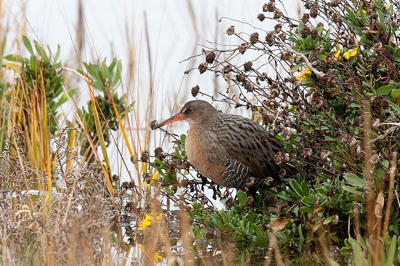 Ridgway's Rail, one of the endangered species to return to South Bay Salt Ponds
(Source: Golden Gate Audubon Society)
Over the last several years, Wild Equity has been working on a campaign to close down Sharp Park Golf Course and hand over the lands to the National Park Service for restoration, as to allow the federally-protected California Red-Legged Frog and San Francisco Garter Snake to thrive peacefully. Recently, another major restoration effort in the South Bay has enabled the populations of two endangered species to rebound, according to an article published by San Jose's Mercury News.
After 15,100 acres of salt ponds were acquired from Cargill Incorporated in 2003, the US Fish and Wildlife Service, California Department of Fish and Game, and the California Coastal Conservancy began a 30-year project to restore the wetland habitats, which were practically devoid of life upon implementation of the project in 2008. The restoration process has progressed rather quickly, and as of this past summer, two endangered species had returned to inhabit the South Bay Salt Ponds at Don Edwards San Francisco Bay National Wildlife Refuge: Ridgway's Rail (formerly known as the Clapper Rail), and the Salt Marsh Harvest Mouse. The return of these species is a major milestone for the restoration project, and more progress is yet to be made. Other goals of the project include establishing wildlife-based recreational opportunities, and to create a flood management system for the vicinity. You can read more about the project here.
The Salt Pond project was initially met with some doubt, and even opposition. They were able to do it, and we too can succeed at Sharp Park. Restoring Sharp Park would benefit everyone: beyond providing the CRLF and SFGS with a sustainable home, it will provide local communities with new recreation opportunities, increase tourism-based revenue for the city of Pacifica, and San Francisco will finally stop losing hundreds of thousands of dollars on an annual basis at Sharp Park Golf Course.
Don't let San Francisco keep pouring taxpayer dollars into this unprofitable golf course. Click here to find out how you can take action and help our campaign to restore Sharp Park.
https://i0.wp.com/www.wildequity.org/wp-content/uploads/rs-archive/images/8756_Ridgway_s_Rail-_Golden_Gate_Audubon.jpg?fit=640%2C426&ssl=1
426
640
Wild Equity
https://www.wildequity.org/wp-content/uploads/2016/01/transparent-logo.png
Wild Equity
2015-10-01 21:19:33
2020-08-14 19:54:43
Another Wetland Restoration Success Story: South Bay Salt Ponds