Be a Part of the Fight in 2016: Join Wild Equity Today!

Dear Reader,
Another year has passed, and yet our most challenging environmental and social problems remain. In fact, many seem to be getting worse: there is now more carbon in the atmosphere, more species on the brink of extinction, more inequity across our human communities.
This realization requires us all to pause and reflect on how we direct our efforts. Because neither we, nor the plants and animals that accompany us on Earth, can afford these trends to continue.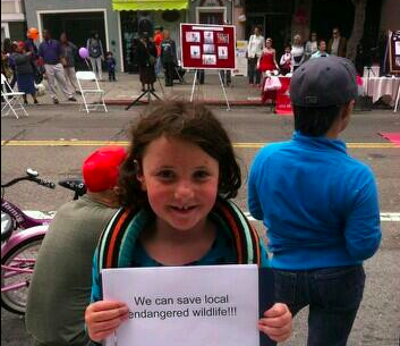 Our supporters count on us to rise to the challenge, not concede to them.
Some in the environmental movement have emerged from this reflection to urge that we concede: give up on our basic environmental objectives, and redefine success as whatever corporate and selfish human interests will permit. Rather than fighting for conservation goals that science demands, they suggest we accept whatever conservation goals corporations will permit.
Wild Equity believes something different. We believe that we can make the world more sustainable, more just, and more beautiful by defending our principles with every fiber of our being.
But effort alone isn't going to be enough. We must direct our efforts wisely. We must be willing to match any particular problem with the strategy that is most appropriate for those circumstances. That's why Wild Equity wields a variety of tools—education, public relations, litigation, & grassroots organizing and lobbying—to win campaigns and create a sustainable and just world. This approach has worked for countless other movements, none of which had to concede their demands.
And it can work for all of us too, but not without you: now more than ever we need you to support our work with a tax-deductible contribution to the Wild Equity Institute today.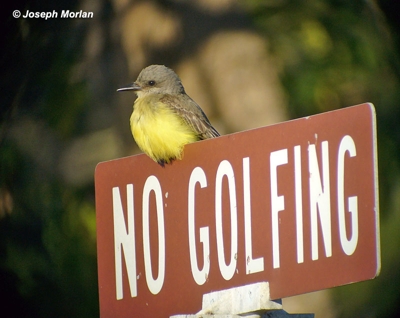 Even this Tropical Kingbird is taking a stand against Sharp Park Golf Course.
Your support has already helped Wild Equity to make great strides towards a more just and sustainable community for all:
• You helped us win long-term permit conditions on the endangered species-killing Sharp Park Golf Course. In 2015 our work resulted in the Coastal Commission imposing an important condition on the golf course's long term operations: all infrastructure at Sharp Park must be removed when threatened by coastal storm surges. These conditions will be put to the test as early as this winter, when the predicted El Nino brings a deluge to our parched state.
• You helped us build our power against power plants polluting the Antioch Dunes National Wildlife Refuge. Wild Equity brought new administrative and legal challenges against polluting Antioch power plants this year, to help restore the Dunes ecosystem and rectify the threats the power plants pose to this remarkable place and the communities that live nearby.
These victories are exceptional; with your support we can accomplish even more in 2016:
• Your contribution will create a better public park at Sharp Park. In November 2015 eight of San Francisco's leading conservation groups stood with us and informed the City that they will oppose a Sharp Park Golf Course redevelopment project that was cynically inserted into the environmental review process for San Francisco's Natural Areas Plan. With your support we can ensure this coalition ensures that the Golf Course plan is removed or the plan is halted in 2016, when the decision comes to a head.
• Your contribution will fund new legal challenges to the power plants that are polluting our communities and poisoning the Antioch Dunes National Wildlife Refuge. This investment will protect endangered species and our most vulnerable communities.
We are poised to make these goals a reality, as we've added two new members to our staff: Roman Berenshteyn is our new Communications Coordinator, and Riley Flynn is our new Development Associate. Come see us at an upcoming event and say hi!
Imagine the world we will build together: a more equitable world for people and the plants and animals that accompany us on Earth. Thank you for supporting this vision and contributing to our work today!
With deepest gratitude,


Brent Plater, Director
Wild Equity Institute
PS —Don't forget to buy an "I 'Bird' SF" shirt or a Wild Equity water bottle for you and everyone you love! Purchase at wildequity.org!
https://www.wildequity.org/wp-content/uploads/2016/01/transparent-logo.png
0
0
Wild Equity
https://www.wildequity.org/wp-content/uploads/2016/01/transparent-logo.png
Wild Equity
2015-12-09 19:58:40
2016-03-31 12:38:39
Be a Part of the Fight in 2016: Join Wild Equity Today!