Federal Judge Tells EPA: No More Delays on Wild Equity Institute's Antioch Dunes Petition
For Immediate Release, July 8, 2014
Contact:  Laura Horton, lhorton@wildequity.org, Wild Equity Institute, (415) 235-0492
Federal Judge Tells
EPA

: No More Delays on Wild Equity Institute's Antioch Dunes Petition

San Francisco, Calif.—Yesterday a federal court judge ordered the Environmental Protection Agency ("EPA") to respond to Wild Equity Institute's concerns over the impacts of PG&E's power plant pollution on community health and the Lange's Metalmark Butterfly, one of North America's most imperiled species.

"EPA has ignored PG&E's pollution problem long enough," said Laura Horton, Staff Attorney at Wild Equity Institute. "The agency's delay has put the local community and the highly endangered Lange's Metalmark Butterfly at risk, and the federal court agrees it is time for EPA to step up."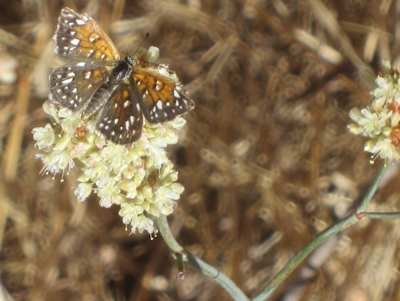 Lange's Metalmark Butterfly, Antioch Dunes National Wildlife Refuge, August 17, 2012.
Photo © Liam O'Brien, http://www.sfbutterfly.com.

Last year, Wild Equity filed a petition with EPA over a permit issued to PG&E's Gateway facility under Title V of the Clean Air Act. Gateway's proposed permit failed to include air pollution control requirements to protect endangered species and the Antioch Dunes National Wildlife Refuge, even though Title V permits must include "all applicable" requirements.

Wild Equity demonstrated this failure to both EPA and the local permitting agency, Bay Area Air Quality Management District, through a formal legal petition process established by the Clean Air Act. The petition process requires EPA to respond to the petition within 60 days. However, EPA failed to respond to this petition at all and the proposed permit became final. Wild Equity then filed a lawsuit against EPA in March of this year to compel the agency to respond to the petition.

Federal court judge James Donato in the Northern District of California questioned EPA's long delay in responding to Wild Equity's petition, and ordered the agency to take action on the petition and provide a substantive response to Wild Equity's concerns by October 17, 2014.

There are only a few dozen Lange's metalmark butterflies remaining in the world. The Fish and Wildlife Service has determined that nitrogen pollution from power plants near the Antioch Dunes National Wildlife Refuge is "virtually certain" to cause the species to go extinct, and earlier this year independently demanded that EPA and PG&E consult with experts and mitigate Gateway Generating Station's pollution.

Background on the Gateway Generating Station and the Lange's Metalmark Butterfly.

Gateway Generating Station is a large, natural-gas-fired power plant in Antioch, California that pollutes nearby communities, worsens the global climate crisis, and threatens the survival of the Lange's Metalmark Butterfly.

Wild Equity has for years been informing EPA and PG&E that they must work with the Fish and Wildlife Service to assess the impacts of Gateway's nitrogen emissions on the butterfly, as required under the Endangered Species Act. However, to date EPA and PG&E have not fulfilled this legal duty.

The Lange's metalmark butterfly is a brightly colored, fragile and highly endangered butterfly that has been protected by the federal Endangered Species Act since 1976. The species is endemic to the Antioch Dunes in Contra Costa County, a relict desert landscape left behind as California's prehistoric deserts retreated from the Bay Area 140,000 years ago. Because of the Antioch Dunes' isolation, many species found in the dunes are unique and very rare.

Sand dunes like the Antioch Dunes are nitrogen deficient, and increased amounts of airborne nitrogen emitted from Gateway changes the chemical composition of the dunes, creating soil conditions that are only suitable for the growth of invasive weeds. Under these polluted conditions, the butterfly's host plant is lost to the invasive weeds, resulting in a population decline for the butterfly. Gateway's emissions also harm local communities by contributing more ozone pollution and soot to an area already disproportionately overwhelmed by power plant pollution.



The Wild Equity Institute is building a healthy and sustainable global community for people
and the plants and animals that accompany us on Earth.
https://www.wildequity.org/wp-content/uploads/2016/01/transparent-logo.png
0
0
Wild Equity
https://www.wildequity.org/wp-content/uploads/2016/01/transparent-logo.png
Wild Equity
2014-07-08 16:42:08
2020-08-15 16:14:30
Federal Judge Tells EPA: No More Delays on Wild Equity Institute's Antioch Dunes Petition