Golf Industry Front-group, San Mateo Politicians Caught Falsifying Official State Resolution on Sharp Park Golf Course
July 17, 2012
FOR IMMEDIATE RELEASE
Contacts:
Brent Plater, Wild Equity Institute, (415) 572-6989
Golf Industry Front-group, San Mateo County Politicians
Caught Forging Senator's Signature on Official State Resolution
San Francisco — A controversial California Assembly Resolution requested by the San Francisco Public Golf Alliance, authored by Assemblyman Jerry Hill, and presented to the public by San Mateo County Supervisor Carole Groom states that the Resolution was endorsed by State Senator Leland Yee. But a letter from the Senator's office says his office never cleared or approved the resolution's language.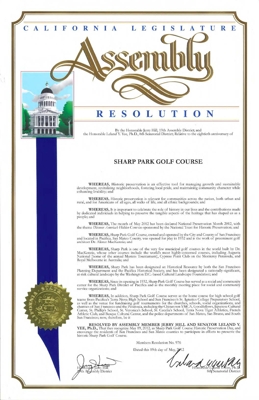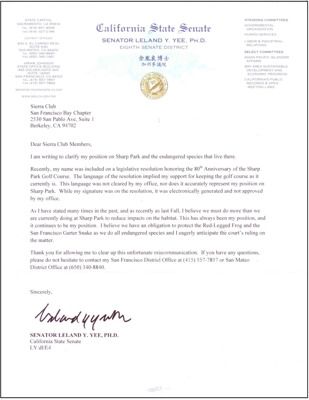 The Controversial California Assembly Resolution and Senator Leland Yee's Written Response.
"The misrepresentations by the San Francisco Public Golf Alliance—and the politicians it gives money to—must end," said Brent Plater, executive director of the Wild Equity Institute. "We call on the Golf Alliance, Supervisor Groom, and Assemblyman Hill to endorse honest, informed public debate by retracting the resolution immediately."
In May of 2012, the San Francisco Public Golf Alliance—a front group for golf privatization advocates and an active opponent of affordable municipal golf in San Francisco—and San Mateo County Supervisor Carol Groom released a controversial California Assembly Resolution authored by Assemblyman Jerry Hill and purportedly endorsed by Senator Leland Yee. The resolution contained several false statements about the historic value of Sharp Park Golf Course—statements that San Francisco's own Historic Preservation Commission did not concur with when it evaluated Sharp Park Golf Course in 2011.
But a new letter from Senator Leland Yee denies that he approved of or endorsed the resolution, explaining that "[t]he language was not cleared by my office, nor does it accurately represent my position on Sharp Park. While my signature was on the resolution, it was electronically generated and not approved by my office."
"The public needs to know the truth about Assemblyman Hill's and Supervisor Groom's support for the Golf Alliance's multi-million dollar government bailout plan for Sharp Park Golf Course, and their steadfast opposition to affordable golf in San Francisco," said Plater. "But false endorsements obfuscate the facts and are a disservice to our democratic process. We look forward to an immediate retraction of the resolution and an honest debate as the campaign to restore Sharp Park advances."
The endangered species-killing, money-losing Sharp Park Golf Course is owned by San Francisco but located in Pacifica, California. It is plagued by crumbling infrastructure, annual flooding problems and ongoing environmental violations. More than three dozen San Francisco-based community, recreation, environmental and justice groups have called for closing the golf course and creating a more sustainable public park at Sharp Park. A 2011 peer-reviewed scientific study by independent scientists and coastal experts concluded that the most cost-effective option for Sharp Park is to remove the golf course and restore the functions of the original natural ecosystem, which will also provide the most benefit to endangered species.
The Department has refused to consider this option, and is instead pursuing a plan that would evict endangered species from the site, bail out the golf course's financial problems with tens of millions of dollars of taxpayer money, and continue San Francisco's liability for fines for Endangered Species Act violations. The San Francisco Board of Supervisors passed legislation in December of 2011 to prevent this from happening while improving access to affordable golf, but Mayor Ed Lee, at the behest of Supervisor Groom, Assemblyman Hill, and other Golf Alliance-supported politicians, vetoed the legislation. Further action by the Board of Supervisors is expected this year.
 The Wild Equity Institute is building a healthy and sustainable global community for people
and the plants and animals that accompany us on Earth.
###
https://www.wildequity.org/wp-content/uploads/2016/01/transparent-logo.png
0
0
Wild Equity
https://www.wildequity.org/wp-content/uploads/2016/01/transparent-logo.png
Wild Equity
2012-12-22 22:59:21
2020-08-14 21:56:15
Golf Industry Front-group, San Mateo Politicians Caught Falsifying Official State Resolution on Sharp Park Golf Course