Lange's Metalmark Butterfly Inspires Electric, Organic Artists
The Antioch Dunes National Wildlife Refuge is in serious trouble, but artists working in diverse media are beginning to tell this landscape's tale.
Sawyer Rose's
NATIVE

: California Plants in Glass, Metal, & Light.

Sawyer Rose's unique artwork of the Lange's metalmark butterfly is now on display at the Inclusions Gallery, located in San Francisco's Bernal Heights neighborhood. The Lange's metalmark butterfly is dangerously imperiled, and will go extinct in the near future—unless we affirmatively act to save this species. The Wild Equity Institute is currently working to protect the Butterfly from harmful local pollution through legal action and public awareness.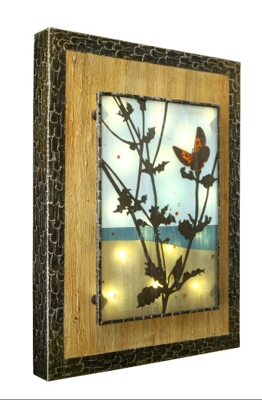 Sawyer Rose's lightbox featuring the Lange's Metalmark Butterfly
Ms. Rose's work pays tribute to California's beautiful native flora (along with select fauna), connecting each of us with a sense of the unique landscapes where we live. Check out this inspired artwork at
Inclusions Gallery
through August 12, 2012.
Tatzoo's Save the Lange's Metalmark Campaign.
Local forces are also mobilizing to save Lange's: and getting a tattoo for their efforts. The Lange's Metalmark Butterfly Tatzoo team is coordinating with the Wild Equity Institute to encourage people to pledge to spend a day saving the Lange's Metalmark Butterfly.
You can help by taking the pledge and committing to help restore the butterfly's habitat. You'll help save one of the world's most imperiled butterflies and meet inspiring people from your community. Find out more at the Tatzoo project's Metalmark blog.
https://www.wildequity.org/wp-content/uploads/2016/01/transparent-logo.png
0
0
Wild Equity
https://www.wildequity.org/wp-content/uploads/2016/01/transparent-logo.png
Wild Equity
2012-07-24 07:46:07
2020-08-15 16:14:31
Lange's Metalmark Butterfly Inspires Electric, Organic Artists