Nearly Two-dozen Community, Park Groups Demand Scrutiny of Sharp Park
Nearly two-dozen allies have joined the Wild Equity Institute in demanding heightened environmental and fiscal scrutiny of Sharp Park Golf Course. The controversial golf course is killing endangered species and loses money, and a new community group letter and a park group letter ask the San Francisco Board of Supervisors to stop prioritizing the suburban golf course the City owns in San Mateo County, and instead prioritize neighborhood and community services threatened by the ongoing recession.
San Francisco Budget Rally; Sharp Park is "Bleeding Green"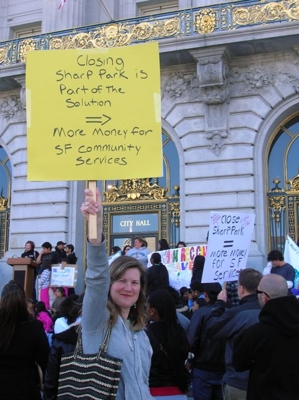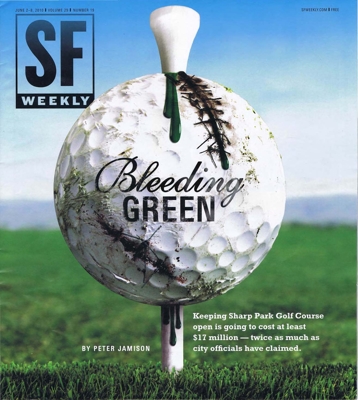 San Francisco's budget crisis is resulting in substantial cuts to neighborhood parks and community services. But cash flow isn't the only factor in determining what is cut and what is not: these decisions are also a product of the City's priorities.
The community and park groups recently submitted two letters highlighting the choices the City can make, and specifically highlighting the ongoing financial losses at Sharp Park Golf Course as a misplaced priority.
The SF Weekly recently wrote that Sharp Park's liability is nearly twice what the Recreation and Parks Department claimed last year, and will require at least $17 million in capital investments to remain operating. If we instead invested this money in our neighborhood parks and community services, we'd be well on our way to building a healthy and sustainable community for people and the plants and animals that accompany us on Earth.
The groups joining the Wild Equity Institute in the letters represent a broad spectrum of San Mateo and San Francisco Counties, and include Arriba Juntos, the San Francisco Bay Chapter of the Sierra Club, the Chinese Progressive Association, Neighborhood Parks Council, Coleman Advocates for Children & Youth, Pacifica's Environmental Family, Vietnamese Youth Development Center, Arc Ecology, Sunset Youth Services, Sequoia & Golden Gate Audubon Societies, San Francisco Youth Commission, Our City, Mission Beacon Community Center, Pacifica Shorebird Alliance, Mission Community Peace Collaborative, San Francisco Chapter of the Surfrider Foundation, Homies Organizing the Mission for Youth Empowerment, National Parks Conservation Association, the San Francisco League of Conservation Voters, Nature in the City, and the Center for Biological Diversity.
https://www.wildequity.org/wp-content/uploads/2016/01/transparent-logo.png
0
0
Wild Equity
https://www.wildequity.org/wp-content/uploads/2016/01/transparent-logo.png
Wild Equity
2010-06-23 10:21:48
2020-08-14 21:23:36
Nearly Two-dozen Community, Park Groups Demand Scrutiny of Sharp Park