Pacifica's Economic Development Committee Resolves to Develop Environmentally Sensitive Habitat Area
Pacifica's Economic Development Committee reignited a controversial development proposal by resolving to develop an area known as the Pacifica Quarry, which is adjacent to the National Park Service's Mori Point. The resolution urges the City of Pacifica to plan and entitle a "village type" development on the property: even though the area has been designated as an Environmentally Sensitive Habitat Area by the Coastal Commission.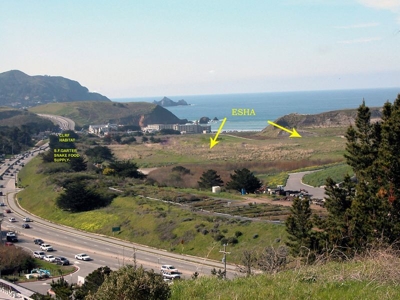 If the development moves forward it will jeopardize the continued existence of two species listed under the Endangered Species Act: the area is occupied habitat for the California red-legged frog and provides suitable habitat for the San Francisco garter snake. The development could also negatively impact the adjacent National Park lands.
The development proposal highlights the critical importance of restoring Sharp Park, which is on the other side of Mori Point from the Pacifica Quarry. At Sharp Park we can build a better public park free of "takings" claims made by private developers; adapt our coast to rising sea levels without building sea walls that destroy beaches; and provide restored habitats for Twain's Frog and the beautiful serpent.
Although previous development proposals have all been defeated at the polls, the quarry property is currently for sale by private interests, and this resolution may help the sellers find a new developer for the land. Check back here for updates as the situation develops, as it were.
https://www.wildequity.org/wp-content/uploads/2016/01/transparent-logo.png
0
0
Wild Equity
https://www.wildequity.org/wp-content/uploads/2016/01/transparent-logo.png
Wild Equity
2011-01-11 23:28:03
2020-08-14 21:06:05
Pacifica's Economic Development Committee Resolves to Develop Environmentally Sensitive Habitat Area