Saving Sea Turtles from Legal Slaughter
In response to graphic new evidence released by Trini Eco Warriors of endangered sea turtles being legally harvested in Trinidad and Tobago, the Wild Equity Institute's Executive Director Brent Plater has drafted regulations to make the harvest illegal year-round while creating a protected zone for sea turtles during their nesting season.
View a Summary Slideshow or
Read the Proposed Regulations: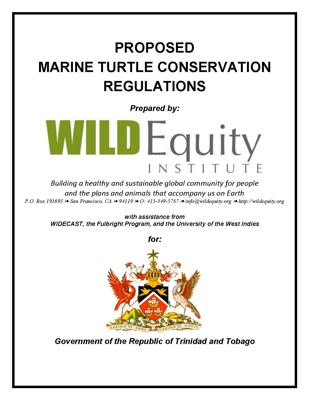 The regulations can be adopted, implemented, and enforced under existing laws protecting wildlife and the marine environment. This crucial element of the proposal allows wildlife officials to act without further authorization from the legislature, where previous attempts to constrain sea turtle killings have been delayed.
"Trinidad and Tobago is one of the world's great hotspots of biological and cultural diversity," said Mr. Plater, who served as a Fulbright Scholar at the University of the West Indies at St. Augustine, Trinidad and Tobago earlier this year. "The proposed regulations can help this magnificent country preserve one of its greatest natural treasures expeditiously, effectively, and efficiently."
The proposed regulations accomplish two discrete tasks that tackle the two main causes of sea turtle mortality in Trinidad and Tobago.
The first regulation harmonizes wildlife conservation laws—which prohibit the killing of sea turtles—with fisheries regulations—which arguably permit harvest during certain time periods and under certain conditions. The regulatory changes clarify that the fisheries regulations do not permit any action that is otherwise prohibited by the wildlife conservation laws, thereby making the killing of sea turtles illegal in Trinidad and Tobago year-round.
The second regulation creates a limited closure area to certain fishing gear during the sea turtle nesting season. The Wider Caribbean Sea Turtle Conservation Network has demonstrated that certain gear types deployed during the nesting season can entangle sea turtles, potentially causing turtles to drown and causing extensive damage to fishing gear. This regulation creates a closure area to specific gear types near turtle nesting beaches, while permitting other gear types that are less likely to harm turtles. The proposal is designed to reduce turtle bycatch while permitting fishers to fish in a manner that will provide an equivalent or greater economic return in the medium- to long-run.
Proposed Gear/Time/Area Regulations for Trinidad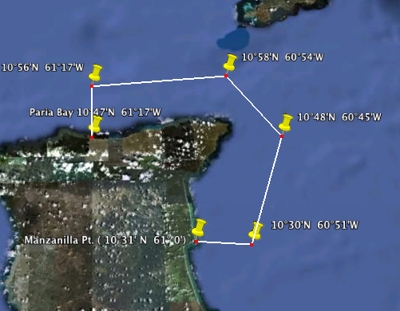 "It is our hope that this regulatory proposal will provide wildlife officials with solid legal footing to enforce conservation laws in Trinidad and Tobago," said Mr. Plater. "Although enforcement of any regulation can be challenging, the outstanding and ongoing work of Trini Eco Warriors, Nature Seekers, WIDECAST, El Socorro Center for Wildlife Conservation, Fishermen and Friends of the Sea, and other environmental groups indicates that Trinidad and Tobago will overcome these challenges and save these turtles from extinction."
https://www.wildequity.org/wp-content/uploads/2016/01/transparent-logo.png
0
0
Wild Equity
https://www.wildequity.org/wp-content/uploads/2016/01/transparent-logo.png
Wild Equity
2010-11-04 16:24:48
2016-03-31 12:38:26
Saving Sea Turtles from Legal Slaughter