Sharp Park Educational Forum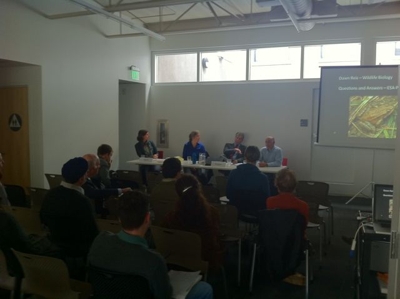 Sharp Park Educational Forum
The authors of the Sharp Park restoration assessment report will be presenting their findings in a community forum at the Pacifica Library on Thursday, March 31, 2011, as a free educational service to Pacifica.
Their report is the first peer-reviewed scientific study of the area, presents a comprehensive picture of the past and present of Sharp Park, and lays out comparative plans for the parks future.
Independent authors Bob Battalio, environmental consultant of the firm ESA PWA; coastal ecologist Dr. Peter Baye; and herpetologist Dawn Reis, assembled the report after a careful year-long study of numerous facets of the park, ranging from the impacts of sea level rise to the management of the endangered species on site to the historical conditions of the area.

The educational forum will delve into the report's findings and the science behind them. Residents stand not only to learn about Sharp Park, but the coastal environment as a whole, bringing greater understanding to the environment in which we live (and sometimes must contend with).
In addition, the report has been accepted by San Francisco Parks and Recreation as the primary scientific reference for Sharp Park, making education about their report essential to any one of the Park's potential futures – restoration, development, or otherwise. In short, understanding the report is essential to any discussion of Pacifica's future.

Join Bob Battalio, Dr. Peter Baye, and Dawn Reis for an educational presentation on the science of Sharp Park at Pacifica Public Library, 104 Hilton Way, at 6:30 PM on Thursday, March 31, 2011, for an informative and educational panel discussion.
https://i0.wp.com/www.wildequity.org/wp-content/uploads/rs-archive/images/5768_Sharp_Park_Presentation.jpg?fit=640%2C478&ssl=1
478
640
Wild Equity
https://www.wildequity.org/wp-content/uploads/2016/01/transparent-logo.png
Wild Equity
2011-04-02 09:50:20
2020-08-14 21:29:12
Sharp Park Educational Forum