Sharp Park Golf Course Floods: Again
Even though San Francisco dumped $300,000 of taxpayer money into new pumps and repaired drainage pipes at Sharp Park over the past two fiscal years, the controversial Sharp Park Golf Course is—once again—severely flooded.
Photographs Taken December 18 & 19, 2010.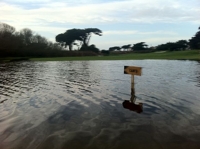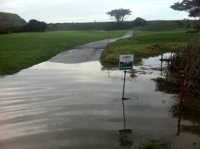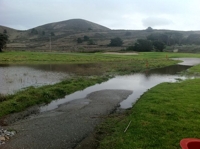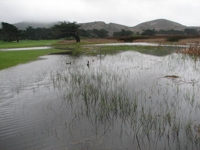 Sharp Park Golf Course has had problems with water management since its inception. The golf course's poor design and unfortunate placement has resulted in flooding from coastal storm surges and from normal winter rains nearly every year.
The ongoing flooding problems highlight the futility of maintaing an 18-hole golf course in this inappropriate location. Millions of dollars of public money would be required to defy nature and defend the golf course's existing location: money that would be better spent on public parks everyone can enjoy.
Restoring Sharp Park's wetlands would greatly reduce the risk of flooding events. Wetlands are nature's best defense against flooding: they act like sponges, absorbing water and protecting surrounding areas from inundation. Their capacity to store water and reduce the velocity of runoff is far greater than mowed areas and golf course fairways and greens.
https://www.wildequity.org/wp-content/uploads/2016/01/transparent-logo.png
0
0
Wild Equity
https://www.wildequity.org/wp-content/uploads/2016/01/transparent-logo.png
Wild Equity
2011-01-11 22:03:59
2020-08-14 21:04:24
Sharp Park Golf Course Floods: Again