Big Year Finds Endangered Coho Spawners in Muir Woods
On December 26, 2010, a dozen Golden Gate National Park Endangered Species Big Year participants found the first endangered Coho Salmon spawning in Muir Woods National Monument this spawning season.
"Santa came a day late, but he brought quite a gift," said Brent Plater, Executive Director of the Wild Equity Institute. "The numbers are still critically low, but anytime salmon spawn it is reason to celebrate."
The sighting was reported to the National Park Service, which sent out an emergency survey team. The team discovered 5 adult Coho salmon and 2 redds (which are essentially salmon nests) in Muir Woods. Additional surveys are now planned for later in the season.
Endangered Species Big Year Participants Observe Coho Salmon in Muir Woods.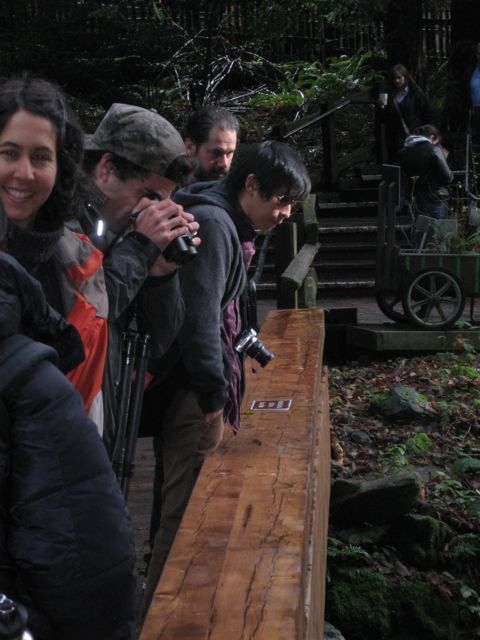 Coho Salmon have been declining at an alarming rate in West Marin for several years. 2008-09 was the worst salmon run in four generations, and in Redwood Creek only four individual spawners and two redds were seen all year. Overall, Redwood Creek had an 83% decline compared to the previous return for this class of Coho.
The 2009-10 year was a bit better than the previous year, but the population numbers are still far below recent spawning runs, causing federal biologists to declare this Coho ESU in an extinction crisis. Some biologists have estimated that the population today is less than 1% of its historic size.
"Although the December 26 sighting is a hopeful sign, the future of the population is uncertain," said Plater. "It will take a collective effort to bring back Coho from the brink of extinction, but with the help of the Endangered Species Act and the National Park Service, the Bay Area will find the fortitude to do it."
https://www.wildequity.org/wp-content/uploads/2016/01/transparent-logo.png
0
0
Wild Equity
https://www.wildequity.org/wp-content/uploads/2016/01/transparent-logo.png
Wild Equity
2011-01-11 22:03:09
2016-03-31 12:38:26
Big Year Finds Endangered Coho Spawners in Muir Woods