Stand Up for the Underfrog": Stop the Federal Golf Bailout Today"
San Francisco's Recreation and Parks Department is seeking federal funding from the Army Corps of Engineers to build a sea wall at Sharp Park: a sea wall that ecologists and biologists have stated will doom the San Francisco garter snake and the California red-legged frog, and cause Sharp Park Beach to erode away as sea level rises. We need you to take action today to stop this golf course bailout effort in its tracks.
Read More About the Golf Bailout Here: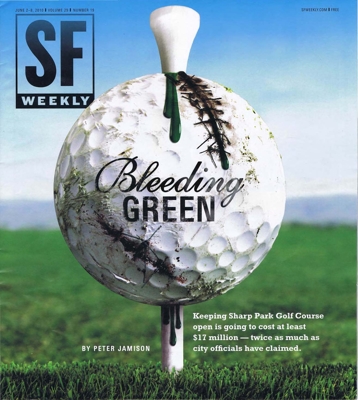 The Department is trying to obtain the funds from Section 206 of the Water Resources Development Act: a federal program that directs the Army Corps of Engineers to restore aquatic ecosystems. The Department convinced Congresswoman Jackie Speier to initiate the request: and true to her early statements in support of restoring Sharp Park, her request claims that the money will be used to protect endangered species at Sharp Park, not bailout the golf course.
But legislative research by the Wild Equity Institute indicates that the Department has a very different—and arguably illegal—purpose for the restoration money: the Department's formal letter in support of the project expressly states that the funds will be used to 'reconstruct the Sharp Park Seawall' and to 'maintain the existing recreational opportunities provided by the golf course'.
Unfortunately, this request has become part of H.R. 5892, the House of Representative's Water Resource Development Act bill for 2010. We need to make sure the Sharp Park project is redefined so the money is properly spent on restoration: and if we can't, we need to stop H.R. 5892 in its tracks by preventing companion legislation from being introduced in the Senate.
Help us convince public officials that if federal funds are spent on Sharp Park, we should receive a federal asset in return: a new National Park with recreational facilities everyone can enjoy and a preserve that supports San Francisco's and California's namesake endangered species.
Please take action today
: the Center for Biological Diversity has set-up
this action alert
so you can point-and-click your way to a better public park at Sharp Park.
https://www.wildequity.org/wp-content/uploads/2016/01/transparent-logo.png
0
0
Wild Equity
https://www.wildequity.org/wp-content/uploads/2016/01/transparent-logo.png
Wild Equity
2010-09-28 01:42:36
2020-08-14 21:02:27
Stand Up for the Underfrog": Stop the Federal Golf Bailout Today"