WEI Puts Fish and Wildlife Service on Notice for Delaying Manzanita Protection
Today the Wild Equity Institute filed a formal 60-day notice of intent to sue the United States Fish and Wildlife Service for failing to provide timely protection to the Franciscan Manzanita, a highly imperiled plant found only in the Presidio in San Francisco.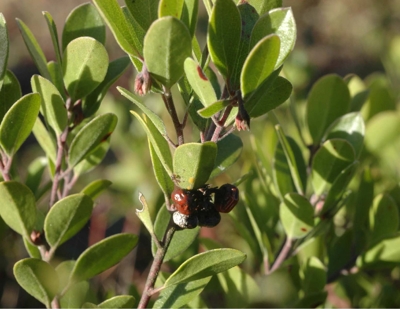 The Last Wild Franciscan Manzanita
The Franciscan Manzanita made national headlines in December 2009 when Dr. Daniel Gluesenkamp rediscovered the plant near Doyle Drive in the Presidio, more than 70 years after the species was declared extinct in the wild. Unfortunately, at the time Dr. Gluesenkamp made his discovery the plant was threatened by a massive, federally-funded road construction project. But a collaborative effort to move the plant into a more secure location was undertaken, saving the individual plant and giving manzanita experts a more stable area to begin species-wide recovery efforts.
To kick-start those species-wide recovery efforts, on December 14, 2009, the Wild Equity Institute submitted a formal administrative petition to the United States Fish and Wildlife Service to provide the species with formal protection under the Endangered Species Act. Endangered Species Act protection is essential to the recovery of the Franciscan Manzanita because it requires a recovery plan to be created and prioritizes federal funding for recovery actions.
Although the Fish and Wildlife Service secured funding to process the petition in 2010 and subsequently found that the Wild Equity Institute's petition presented substantial scientific or commercial information indicating that listing the species may be warranted, it still has not published a proposed rule to protect the Franciscan Manzanita. Under the mandatory deadlines specified in the Endangered Species Act, the finding was due no later than December 14, 2010.
Because the battle against extinction is ultimately a race against time, delays in processing the petition puts the species at risk. Moreover, without Endangered Species Act protection, there is no legal protection for the last plant in the wild; no binding recovery plan can be created; and no federal recovery funding for the endangered plant can be provided.
The Wild Equity Institute hopes that the Fish and Wildlife Service will get this Franciscan Manzanita protected as quickly as possible without having to resort to litigation. But if the agency doesn't respond rapidly, we will be there to ensure the species gets the protection it deserves and desperately needs.
https://www.wildequity.org/wp-content/uploads/2016/01/transparent-logo.png
0
0
Wild Equity
https://www.wildequity.org/wp-content/uploads/2016/01/transparent-logo.png
Wild Equity
2011-02-17 23:19:28
2020-08-15 16:15:48
WEI Puts Fish and Wildlife Service on Notice for Delaying Manzanita Protection