Big Year Kick-off a Success!
GGNP

Endangered Species Big Year's Kick-off a Success!

The 2010 Golden Gate National Parks Endangered Species Big Year began with a wonderful bike ride this past weekend in partnership with the San Francisco Bike Coalition. As we rolled out to begin the ride, a Peregrine Falcon, one of the Endangered Species Act's greatest success stories, flew over head, hunting doves! Around 40 cyclists then searched for Marbled Murrelets, Humpback Whales, Sea Otters, and Steller Sea Lions along the coast, and then found and saw a rare little wildflower, the San Francisco Lessingia!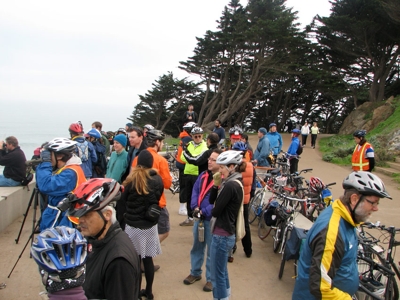 Big Year Bike Ride Participants Search for Endangered Sea Creatures Near Land's End.
A hearty thank you to some of the Bay Area's greatest naturalists for helping identify plants and animals along the route, including Josiah Clark of Habitat Potential, Jeff Miller of the Alameda Creek Alliance, Casey Allen of SF Landscapes, Matt Zlatunich of Golden Gate Audubon, and David Schmidt of California Nature Tours.
Following the ride, around 80 Big Year participants celebrated the 2010 GGNP Endangered Species Big Year at the Sports Basement in the Presidio. After enjoying complimentary snacks from Arizmendi Bakery, participants met a live San Francisco Garter Snake courtesy of the San Francisco Zoo.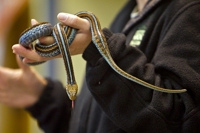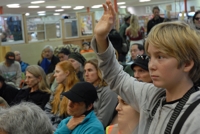 We then took a short hike to search for the Western Snowy Plover at the Crissy Field Wildlife Protection Area. We weren't able to find the little shorebirds this day. This may be due in part to legal actions threatened by anti-leash advocacy groups: last month they challenged the GGNP after the Park erected a fence to protect the Western Snowy Plover's habitats, and the Park Service moved the fence into the Snowy Plover's habitat in response. The birds haven't been seen at Crissy Field since.
There are thousands of feet of shoreline at Crissy Field where dogs are roaming off-leash, but only a few hundred where the Snowy Plovers regularly roost. Complete your action item for the Western Snowy Plover by leashing your dog when you come to the GGNRA, and/or asking others to do so, regardless of where the fence posts are ultimately placed.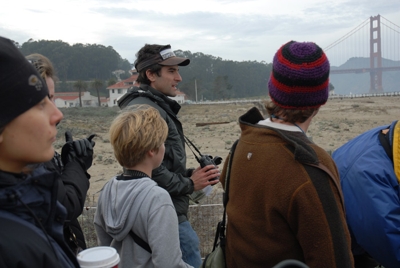 Wild Equity Institute Executive Director Brent Plater Searches for Snowy Plovers at Crissy field.
A special thank you to the Sports Basement for hosting the event, and our eternal gratitude to the Wild Equity Institute's indefatigable Barbara Beth for organizing a wonderful event!
https://www.wildequity.org/wp-content/uploads/2016/01/transparent-logo.png
0
0
Wild Equity
https://www.wildequity.org/wp-content/uploads/2016/01/transparent-logo.png
Wild Equity
2011-01-12 06:33:40
2016-03-31 12:38:22
Big Year Kick-off a Success!