Former Sharp Park Golf Course Supervisor Turns Whistleblower Over Course's Environmental Problems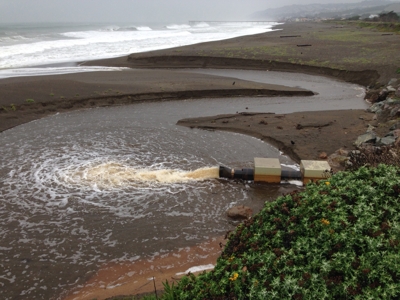 Massive water draining at Sharp Park Golf Course
The allegations of Wayne Kappelman, a former supervisor at Sharp Park Golf Course, need to be put into perspective. Kappelman was showered with awards while he towed the party line as the course slaughtered endangered species, was recently forced out of course management after blowing the whistle on persistent water wastage.
Let's start with a basic metric. The average person uses 80-100 gallons of water per day. This includes flushing toilets, showering, washing clothes, running dishwashers, cooking and drinking water, and other uses.
Kappelman alleges that the course leaks 50,000 gallons of water a day — a number equivalent to the daily water requirements of 1,000 people. That's equivalent to 2.6% of the city of Pacifica's daily household water use.
The wastage reported amounts to the equivalent 18,250,000 gallons a year. Kappelman alleges that the leak has existed since 2011, meaning that up to 73 million gallons of water have been wasted.
That's an astonishing 1.46 million days of water for local households, enough to supply the people of Pacifica for more than a month.
California is now in its fourth year of drought — coincidentally, the year the water wastage started. The presence of the drought did nothing to prompt Park and Rec officials to stem the leak.
Kappelman's ousting illustrates the extent to which his superiors at San Francisco's Recreation and Park Department are willing to hide environmental destruction in order to keep the golf course in operation.
Sharp Park's pernicious water wastage in a time of drought only highlights mismanagement and deception by those operating the golf course, to the benefit of a relative few.
https://i0.wp.com/www.wildequity.org/wp-content/uploads/2017/01/IMG_3162-scaled.jpg?fit=2560%2C1920&ssl=1
1920
2560
Wild Equity
https://www.wildequity.org/wp-content/uploads/2016/01/transparent-logo.png
Wild Equity
2015-08-18 00:11:05
2020-08-14 19:34:34
Former Sharp Park Golf Course Supervisor Turns Whistleblower Over Course's Environmental Problems