Humpback Hit & Run: Time for Speed Limits in Marine Sanctuaries
Whales are congregating in large numbers off the coast of Northern California right now, but the exciting news has been tempered by reports that a young Humpback Whale was found dead near the Farallon Islands with slashes on its body consistent with being struck by a ship propeller.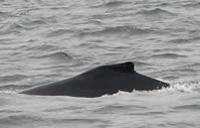 Humpback Whale
This is no isolated incident: whales are killed by ship strikes every year. You can help address this problem by participating in the Wild Equity Institute's Golden Gate National Parks Endangered Species Big Year. Humpback Whales are protected under the Endangered Species Act, and are one of the 36 endangered species you can see and help save in the Golden Gate National Parks. The prescient action item for the Humpback Whale is to call our local marine sanctuaries and demand that they impose speed limits to protect whales from ship collisions. You can find out how to contact our local marine sanctuaries here.
Whales are frequently struck by ships as large cargo tankers and other boats come in and out of our busiest ports. Part of the problem is that shipping corridors often run right through marine sanctuaries, where whales may be resting and feeding. Some of these large ships carry too much momentum to avoid whales: unless they slow down so that the ship can redirect its course rapidly. That's why ocean speed limits are essential, and our marine sanctuaries are the perfect place to implement them. Please make your calls today.
https://www.wildequity.org/wp-content/uploads/2016/01/transparent-logo.png
0
0
Wild Equity
https://www.wildequity.org/wp-content/uploads/2016/01/transparent-logo.png
Wild Equity
2010-07-27 19:22:09
2016-03-31 12:38:24
Humpback Hit & Run: Time for Speed Limits in Marine Sanctuaries