June 21: Tell the Board of Supervisors to Stop Bleeding Green
We need you to tell the SF Board of Supervisors to break out the "green scissors": eliminate the environmentally destructive Sharp Park Golf Course from the City budget and redirect the money saved back to San Francisco's neighborhood parks and community services, where the money belongs.
On Monday, June 21 at 4pm in San Francisco's City Hall, Room 250, the Board of Supervisors will have a hearing on San Francisco's budget. Come to the hearing early, around 3:30pm, to get a speaker card and find out when you'll get a chance to speak. This could be a long one, so if you can't stay please send an email to info@wildequity.org with your comments and we'll hand them in for you.
The SF Weekly recently exposed that Sharp Park Golf Course is a much larger liability to SF's budget than the Parks Department had previously disclosed (read the article here).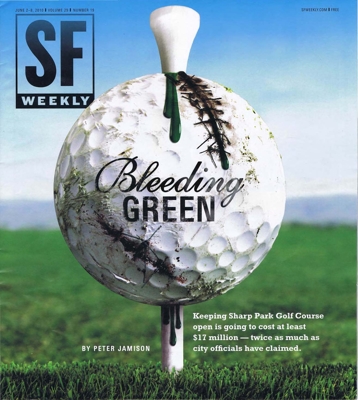 The Board of Supervisors can draft a more environmentally sustainable and equitable budget by simply stopping the subsidy for suburban golf in San Mateo County and redirecting the money saved to our communities and neighborhood parks that are struggling the most during the financial crisis.
See you there, but if you can't make it please send your comments to info@wildequity.org and we'll make sure the Supervisors get them. Thanks for all you do!
https://www.wildequity.org/wp-content/uploads/2016/01/transparent-logo.png
0
0
Wild Equity
https://www.wildequity.org/wp-content/uploads/2016/01/transparent-logo.png
Wild Equity
2011-01-11 23:47:08
2020-08-14 21:07:12
June 21: Tell the Board of Supervisors to Stop Bleeding Green