Sea Level Rise, Waterfront Development, and Sharp Park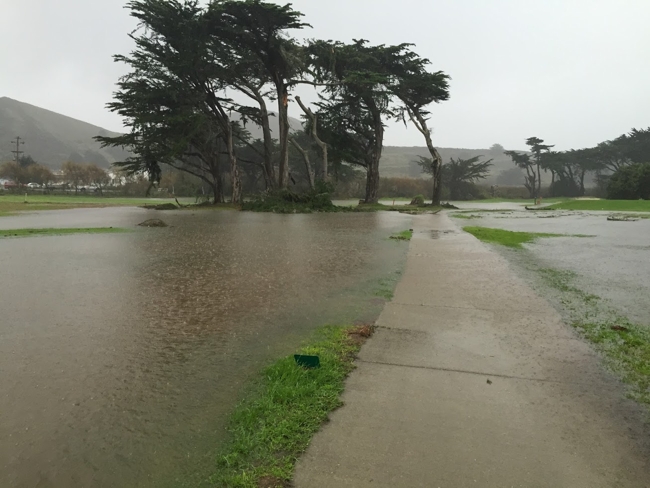 As sea levels rise, flooding at Sharp Park Golf Course will gradually worsen
Despite San Francisco's progressive reputation, the city is doing a subpar job of preparing for the impacts of climate change. According to a Summer 2015 report on sea level rise in the San Francisco Public Press, San Francisco is rubber-stamping new waterfront development projects without taking into consideration the threat of future flooding.
One project highlighted by the report is a plan to build a new $1 billion arena for the Golden State Warriors near the Mission Bay neighborhood, in a location which is subject to flooding by the end of the century. Mayor Ed Lee has vowed that the arena will be constructed, despite opposition to the project. Unless Lee knows something about the future that we don't, such projects are ludicrous, feeding into the paradigm of letting future generations deal with the consequences of whatever benefits us today.
Similarly, Mayor Ed Lee and the San Francisco Recreation and Parks Department want to keep Sharp Park Golf Course around at a cost of millions of taxpayer dollars, without properly planning for future sea level rise, leaving the park vulnerable to flooding by the end of the century.
The plan to restore Sharp Park into a publicly accessible national park, as proposed by Wild Equity, and backed by the National Park Service and San Francisco Board of Supervisors, would implement in phases the precautions necessary to protect Sharp Park from inundation. This plan not only accounts for climate change, but for the needs of local communities and sensitive habitats as well. But this apparently isn't good enough for Mayor Lee, who vetoed the bill to restore Sharp Park in 2011.
It's time city leaders got their act together- sea level rise is inevitable, and as average global temperatures rise and glacial ice melts, we can expect water levels to rise 3 to 8 feet by the year 2100, according to climate models. What does this mean for San Francisco? Beaches, piers, and even the runways at San Francisco International airport are anticipated to end up inundated by the turn of the century. The proposed waterfront development projects effectively burden the city to pay millions, possibly billions, of dollars in the future to build the appropriate infrastructure necessary to protect the areas that are susceptible to flooding. City leaders know exactly the consequences of their actions, as opposition groups to the development projects at hand have made themselves heard.
Don't let San Francisco keep pouring taxpayer dollars into this unprofitable golf course. Click here to find out how you can take action and help our campaign to restore Sharp Park.
https://i0.wp.com/www.wildequity.org/wp-content/uploads/rs-archive/images/8744_IMG_0789.JPG?fit=1308%2C981&ssl=1
981
1308
Wild Equity
https://www.wildequity.org/wp-content/uploads/2016/01/transparent-logo.png
Wild Equity
2015-09-09 18:43:58
2020-08-14 19:26:24
Sea Level Rise, Waterfront Development, and Sharp Park