Wild Equity has Endangered Species to Save and Prizes to Give!
Wild Equity has finished scheduling our 2012 Golden Gate National Parks Endangered Species Big Year events—check out our guided offerings to see and save local endangered species at our events calendar.
In addition to the grand prize winners— those folks who see and save the most species by the end of the year — we are now offering several interim prizes for species sightings and conservation action items every month from now through December!
To qualify for prizes, you must get a free wildequity.org web account and then sign-up to participate in the GGNP Endangered Species Big Year. Once you are signed-up you'll need to record your sighting or action item on the species' corresponding Big Year page. It's that easy!!
While you can always score points on your own, we've set up several events to help you climb the leaderboard. Here's a rundown of what we have in store:
In August, Be the first person to either (a) Use a reusable bag when you shop and then sign the California Plastic Bag Ban petition for the Steller Sea Lion, or (b) Ask public officials to implement a speed limit for large vessels when whales are present for the Humpback Whale, or (c ) Volunteer in the GGNP restoring riparian areas for the Central California Coast Steelhead Distinct Population Segment and receive a $25 gift certificate to Sports Basement! Just be sure to sign-up and record your actions.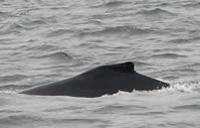 The Humpback Whale and the Steller Sea Lion
Wild Equity will be offering a chance to see and save these amazing sea creatures on our Sea Watch on August 18, at 10 a.m.
In September, the first person to either (a) help the San Francisco Lessingia by protecting and restoring one of its last two habitats, or (b) tell five people about the rare San Mateo Wooly Sunflower and its plight will be the lucky prizewinner for September!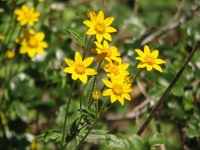 SF Lessingia (left) and the San Mateo Wooly Sunflower (right)
Wild Equity will take a trip on September 1, at 9 a.m. with the GGNP to protect and restore San Francisco Lessingia habitat at Lobos Creek Valley.
In October, the first person to spot and record a sighting for any one of the 11 endangered plants found in the GGNP will be October's lucky prizewinner!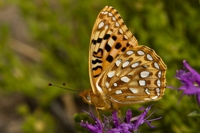 Myrtle's Silverspot Butterfly (left), the Presidio Manzanita (center) and the Marbled Murrelet (right)
Join our Big Year Bike Ride on October 20, at 9:30 a.m. for a chance to see and save several endangered species—including some imperiled plants.
In November, see the Western Snowy Plover and protect it from harassment in its last San Francisco habitats. The first person to record a sighting for the Western Snowy Plover and ask a dog owner to leash their dog while visiting the GGNRA will be awarded November's prize!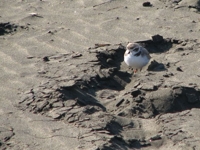 The Western Snowy Plover
Join Wild Equity on our Snowy Plover Walk at Crissy Field on November 11, at 11:00 a.m.
In December, the last month for the Big Year, be the first person to report an observation of any of our returning endangered Salmonids and receive a prize!
Remember, December is the last month to get your sightings and action items in for the GGNP Big Year! The grand prizewinner will be determined in January 2013. Sightings always need to be within the legislative boundary of the Golden Gate National Parks — sightings outside this boundary don't count. Action items can be completed anywhere the instructions allow.
Good Luck!
https://www.wildequity.org/wp-content/uploads/2016/01/transparent-logo.png
0
0
Wild Equity
https://www.wildequity.org/wp-content/uploads/2016/01/transparent-logo.png
Wild Equity
2012-08-02 18:57:08
2016-03-31 12:38:34
Wild Equity has Endangered Species to Save and Prizes to Give!