More Reasons to Vote NO on B!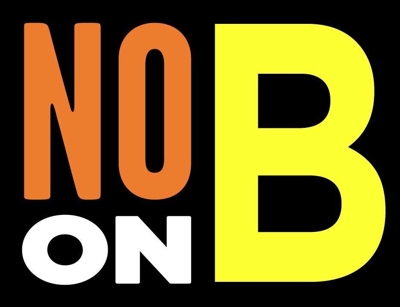 With the campaign mailer deluge hitting our mailboxes, it appears that the supporters of San Francisco's Proposition B are spending almost as much money trying to pass the proposition as the City might generate with the bonds Prop B. authorizes!
To cut through the clutter, the Wild Equity Institute provided some initial reasons to vote no on Prop. B several days ago, but the latest mailers sparked some additional research: and confirmed our suggestion that you vote no on Prop. B.
There is a pronounced difference between funding capital improvements and funding ongoing operations. Operations have simply not been a funding priority of our elected officials, and as a result RPD has been driven to pursue additional funding in the form of concessions and services. . . . It does not makes sense to spend money improving buildings or restoring parks if we can't afford to open those buildings or operate those parks. There needs to be a sustained commitment to operations to support any capital program. . . . In fact, our hope has been that the operating deficit would be addressed first.
Prop. B makes this problem worse: it forces San Francisco to build new capital projects without providing any stream of income to maintain the projects over time. Like all bonds, Prop. B can only fund capital projects—not a dime of the money Prop. B raises can be used to address the existing operating and maintenance backlog. Let alone the additional operations and maintenance burdens that new capital projects will impose on our park budgets.
To truly solve our parks' budget problem, RPD needs to join with park advocacy groups demanding larger operation and management budgets at the Board of Supervisors and the Mayor's office, where we can obtain the annual operating and maintenance money our parks need. But to date, RPD has refused to join with us, and instead it has pursued bloated capital funding, and wasted operating budgets subsidizing suburban golf in San Mateo County. Perhaps, as the SPUR report suggests, this is because RPD has failed to properly prioritize its revenue problems.
As RPD's maintenance and operating budget becomes more dire, the City's Natural Areas Program suffers the most. The Natural Areas Program is not a priority within

RPD

, and it is funded last nearly every time budgets are reduced. If we build more capital than we can afford to maintain, the City's operations and maintenance budgets will become even more stressed. As budgets become more constrained, staff will be cut, and it is most likely that Natural Areas Program staff will bear the brunt of those cuts. Again, Proposition B makes this problem worse by providing no funding for operations and maintenance while building several new projects

RPD

will be required to operate and maintain indefinitely.
All the projects specified in the bond have been declared categorically exempt from

CEQA

. The Bond language incorporates categorical exemptions from

CEQA

for nearly all the identified projects specified in the bond. This is an abuse of

CEQA

, and something environmentalists and conservationists should not support.
Building our way out of repair and maintenance is extremely environmentally harmful.

RPD

has suggested that Prop. B will address its maintenance backlog by getting rid of items that need repair, and building new projects in their stead. But we can think of no more environmentally harmful way to address our maintenance backlog. Is our decline into a throw-away culture so complete that even our infrastructure is now disposable? We think that in the City where single-use plastic bags have been banned, we can do better than creating throw-away capital projects. San Francisco demands better than this, and our environment requires it.
Strategy. There is little doubt that San Francisco politicians generally, and Recreation and Park officials specifically, give little heed to conservation concerns. This is in no small measure because the conservation community needs to become more effective applying political pressure in most campaigns—Wild Equity's campaign to restore Sharp Park being one of the few exceptions, which was the only land-use issue to get a majority vote at the Board of Supervisors in several years. To turn this around, we need to express political displeasure to those who make decisions antithetical to our concerns. This was done by opposing bond initiatives on environmental grounds in the East Bay a few years ago, and since that time East Bay parks have had a much stronger relationship with the Sierra Club. We can do the same here.
We can understand why some institutions might determine that the short-term benefits of specific, promised projects outweigh the long-term negative impacts that Prop. B imposes on our parks. Surprisingly, SPUR endorsed this proposal, albeit with an important caveat: that the long-term funding problem be addressed sooner rather than later. But Wild Equity is in it for the long-haul, and Proposition B will fundamentally make park financing more difficult if it passes.
That's why we urge you all to vote NO on Prop. B.
https://www.wildequity.org/wp-content/uploads/2016/01/transparent-logo.png
0
0
Wild Equity
https://www.wildequity.org/wp-content/uploads/2016/01/transparent-logo.png
Wild Equity
2012-10-23 02:10:03
2020-08-15 22:53:55
More Reasons to Vote NO on B!