Recap: Brent Plater Talks Talking Ecology with Shaping SF
In front of a packed audience last month, Wild Equity Institute Executive Director Brent Plater discussed communicating science to the public with Azibuike Akaba, an Environmental Policy Analyst at Public Health Institute, and Rose Aguilar, a journalist and radio host of Your Call on San Francisco's KALW.

Listen to the audio archive of the entire presentation.
Azibuike discussed the framing and language of scientists and engineers. He defined resilience as a community that takes care of each other, and suggested focussing on the experience in nature. He claimed it's not true that scientists define our experience of nature, although we often allow them to. He reminded the group that science is funded by someone who is class-interest based, and suggested scrutinizing scientific claims to ensure that science isn't wielded simply to perpetuate existing biases.
After Azibuike spoke, Brent invoked the meme of the Anthropocene, a term that suggests humans are now as impactful on the earth as a glacial period or asteroid strike—catastrophic events that have been used to define biologic and geologic time. He critiqued Peter Kareiva, the Chief Scientist for The Nature Conservancy, who suggests our massive impacts on Earth means the environmental movement is a failure, and should be transformed into a industry-friendly movement. Brent criticized Kareiva not for his suggestion that the environmental movement needs work, but because Kareiva suggests we should cede our demands to the movement's opponents. Instead, Brent argued we should tell the public about our beliefs, which are widely shared, and not just what we know.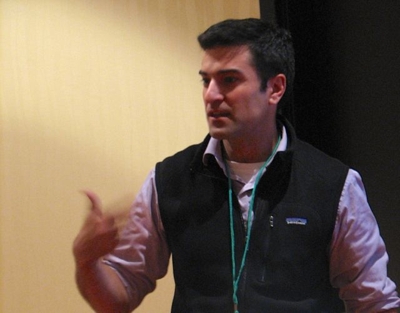 Brent sharing his views about science and ecology.
Brent analogized to the Lord of the Rings series to demonstrate this difference. He argued that the fable teaches us two ways to change the world. The first is with the "magic ring" of scientific expertise. This specialized knowledge has been the main strategy of change used by the modern environmental movement. The second way to change the world is raise an army of orcs: Brent declared that it's time to catalyze the public by using language that demonstrates our heartfelt values, not only language that describes science. He hearkened back to the mass movements of the 1970s. Brent ended by asking, "What is it you believe? Was it some moral foundation that lead you to this work?" He claimed we need to figure out ways to give expression to these reasons in a time of scientific dependence.
Rose Aguilar then took the microphone to discuss the media's relationship to science. Independent outlets are overwhelmed by corporate conglomerates, and entertainment and crime dominate over environmental issues. She noted many of the major news outlets are dismantling their environmental desks and reassigning environmental reporters. She noted that we now have to work harder and go the extra mile to find information about our world. Rose questioned why we place the burden of responsibility on individuals rather than corporations and called for broad social change.
The audience brought important questions and issues to the panel, and the evening incited conversation throughout the crowd. Azibuike, Brent, and Rose brought diverse viewpoints and opinions to this extensive topic.
https://www.wildequity.org/wp-content/uploads/2016/01/transparent-logo.png
0
0
Wild Equity
https://www.wildequity.org/wp-content/uploads/2016/01/transparent-logo.png
Wild Equity
2013-06-12 19:08:21
2016-03-31 12:38:36
Recap: Brent Plater Talks Talking Ecology with Shaping SF