Sharp Park Golf Course Loses Even More Taxpayer Dollars
San Francisco's endangered species-killing Sharp Park Golf Course cost San Francisco taxpayers $177,000 more than it earned during the 2011-12 fiscal year, according to a new analysis by the Wild Equity Institute.
The analysis also demonstrates that the Recreation and Park Department will save money if it closes the course even if RPD is incapable of reducing its overhead costs. If only 20% of current Sharp Park golfers, 70% of which are San Francisco residents, reinvest their golf rounds into one of the City's five other municipal courses, any legacy overhead costs would be completely offset by the increase in revenue at San Francisco's other courses.
Golf industry developers—seeking a government bailout for Sharp Park Golf Course—and the Pacifica Chamber of Commerce—seeking "a new hotel and restaurant right on the ocean, right next door to Sharp Park Golf Course"—have denied that Sharp Park Golf Course loses money, hoping to convince public officials to pour more taxpayer dollars into their development proposals.
But their analyses counts taxpayer monies from San Francisco's General Fund as part of the golf course's revenue stream. This money is, of course, not income from the golf course's operation: it is a taxpayer bailout. Wild Equity's calculations remove this taxpayer bailout from the revenue stream for Sharp Park Golf Course to get a more accurate picture of how the course's finances impact San Francisco's limited recreation funding.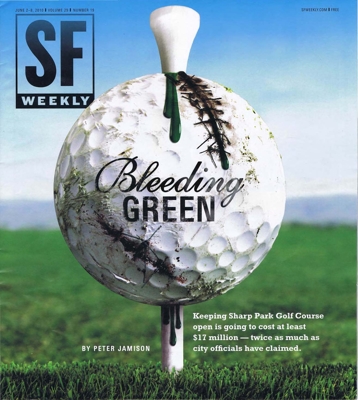 Find SF Weekly's Bleeding Green Article here.
Yet Wild Equity's analysis is very conservative: it presumes that costs applicable to the Department's entire golf program were disproportionately born by the Department's five other golf courses. If these costs were distributed evenly, Sharp Park Golf Course's losses climb to over $245,000 for the 2011-12 fiscal year.
Unfortunately the losses are not likely to end anytime soon. The City Controller and the Recreation and Park Department have cited environmental issues at Sharp Park as a cause of an expected revenue shortfall for the upcoming 2012-13 fiscal year.
Sharp Park continues to be a burden on the city's taxpayers and the land's endangered species: the San Francisco Garter Snake and the Red-legged Frog. Contact the Wild Equity Institute today and find out how you can help us build a better public park at Sharp Park.
https://i0.wp.com/www.wildequity.org/wp-content/uploads/rs-archive/images/4478_bleeding_green_cover.jpg?fit=1550%2C1732&ssl=1
1732
1550
Wild Equity
https://www.wildequity.org/wp-content/uploads/2016/01/transparent-logo.png
Wild Equity
2013-06-13 18:55:12
2020-08-14 19:13:28
Sharp Park Golf Course Loses Even More Taxpayer Dollars