Students, Wildlife Get a Second Chance with WEI
The Wild Equity Institute has partnered with Downtown High School in San Francisco to give students and endangered species a second chance at life.
"We've been inspired by the students at Downtown High School and the empathy they've shown toward each other and to other forms of life," said Brent Plater, Executive Director of the Wild Equity Institute. "We're grateful for the opportunity to help them succeed both in and out of the classroom."
The joint project is called "Endangered Semester," and it provides students who have not succeeded in traditional classrooms an opportunity to see 10 endangered species in the field, while taking 10 actions that help these species recover. It is a competitive event: as the students see and help save endangered species, they earn prizes that help their class succeed.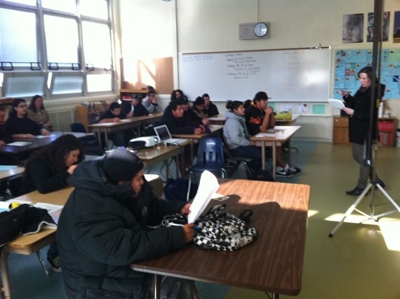 Endangered Semester Presentation at Downtown High School
On January 13, 2011, students completed their first trip to help see and save Coho Salmon at Muir Woods National Monument and Muir Beach. Although inclement weather made it difficult to spot salmon, the students marshaled on and planted 120 native plants along creek beds to help improve spawning habitat for the anadromous fish.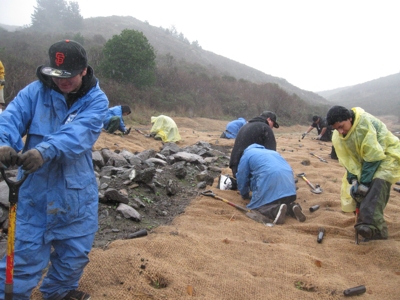 Downtown High School Students Restore Native Plants
Along a Tributary of Redwood Creek
In addition to Muir Woods, students will visit the Antioch Dunes National Wildlife Refuge and the Presidio of San Francisco this semester. During each visit students will be given opportunities to see imperiled wildlife, developing nature observation and field skills in the process. Students are also given diverse tasks to help these species recover, including restoring habitat, contacting public officials, and making healthy lifestyle choices.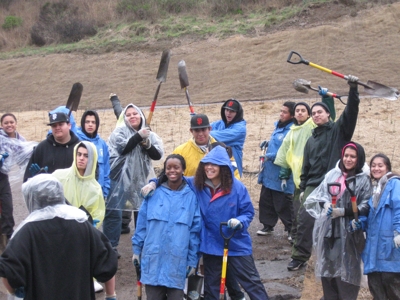 Downtown High School Students Celebrate Restoration Work for Coho Salmon
The Endangered Semester was made possible by a generous gift from the California Wildlands Grassroots Fund of the Tides Foundation. Visit https://www.wildequity.org for more information about the project as the semester progresses.
https://www.wildequity.org/wp-content/uploads/2016/01/transparent-logo.png
0
0
Wild Equity
https://www.wildequity.org/wp-content/uploads/2016/01/transparent-logo.png
Wild Equity
2011-01-14 18:26:45
2016-03-31 12:38:27
Students, Wildlife Get a Second Chance with WEI