"This Shirt is Worth the Entire Future of Civilization"
Wild Equity Institute is receiving its first branded products soon, and the buzz is building. For example, a focus group participant at San Francisco State University had this to say about our new "I Bird San Francisco" T-shirt:
"This shirt has value far more important than its price. How much is it worth to promote environmental protection in your community? How much is it worth to use organic clothes? The shirt is worth our entire future as a civilization."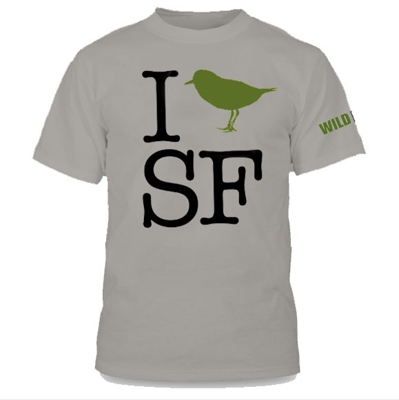 I Bird SF 100% organic cotton T-shirt. Comes in natural color, sizes S, M, L, & XL.
That's right folks: our I Bird SF shirt is worth our entire future as a civilization!
Lucky for you we're giving them away—to members who contribute $60 or more to our end of year membership drive! Either join Wild Equity or renew your membership at the $60 level or more and you'll get an I Bird SF T-shirt on the house!
Already have plenty of shirts? No problem! You can substitute a Wild Equity branded reusable water bottle made in the USA from 100% recycled aluminum!


The Wild Equity bottle is made of 100% recycled aluminum in the USA.
24oz with twist-off cap. Select green or white.
Want the bottle and the shirt? We've got a solution for you too: if you contribute at the $100 level or more, we'll send you one T-shirt and one water bottle at no extra charge!
Ladies and gentlemen, there hasn't been a Wild Equity membership deal this good since….well ever! Not only do you get some cool sustainable products, you also get to contribute to our work saving San Francisco's Natural Areas Program so it can continue stewarding our local plants and wildlife; transforming Sharp Park Golf Course into a new national park everyone can enjoy; and saving the Lange's Metalmark Butterfly and empowering local communities to end pollution from power plants that destroy the species' habitat.

So join now and let the world see that you're part of our movement. Of course, you can always decline the stuff and let all of your contribution go directly to our work: just let us know what you prefer in the notes section of your order! Be sure to specify color for the bottle, and size for the shirt! And thank you for believing in our work!
Sincerely,

Brent Plater
Executive Director
ps—If you already gave this year and earned a shirt and/or a bottle, we've got you covered! We'll contact you when they are ready to ship and take your order. Or contact us anytime and let us know what you want! We expect first shipments to go out in late January.
https://i0.wp.com/www.wildequity.org/wp-content/uploads/2012/12/I-bird-sf-shirt-featured.jpg?fit=1500%2C430&ssl=1
430
1500
Wild Equity
https://www.wildequity.org/wp-content/uploads/2016/01/transparent-logo.png
Wild Equity
2012-12-24 06:56:49
2020-08-15 16:37:38
"This Shirt is Worth the Entire Future of Civilization"