Turbulent Blue: Connecting the Dots Between Sea-level Rise, Our Beloved Bay and Slowing Global Warming
Join the Center for Biological Diversity, San Francisco Bay Chapter of the Sierra Club, Wild Equity Institute, Pacific Institute and others as we "connect the dots" between global warming, sea-level rise, and the impacts on communities, animals and plants in a dramatic, interactive human wave at San Francisco's restored tidal marsh Crissy Field, in the Presidio under the iconic Golden Gate Bridge.
Wear blue and bring a pair of blue jeans, a blue T-shirt or blue sheet. The wave of blue we'll create together will dramatically illustrate sea-level rise, as well as the more frequent and severe storms, storm surges and erosion that we can expect at places like Crissy Field — unless we can start slowing climate change now. We'll even be filmed!
The event will also feature impact "dots" — "dot" being our word for an informative poster — which will represent impacts and solutions. The "impact dots" will share facts about climate impacts on people and other species here in the Bay, including threats posed by sea-level rise, erosion and ocean acidification. Our "action/solution dots" will identify actions that can help us avoid these impacts — cutting carbon in our atmosphere by stopping the Keystone XL pipeline and Arctic drilling plans, enforcing the Clean Air Act, and restoring Sharp Park.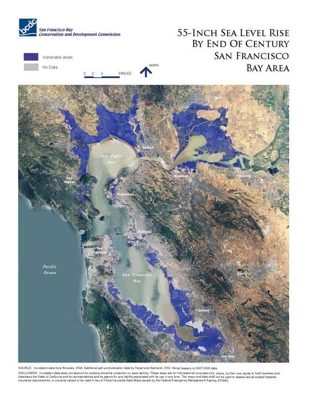 Almost 4 million Americans live less than four feet above current high-tide levels. Scientists predict approximately 2 to 7 feet of sea-level rise this century.
Marshes such as Crissy Field are particularly vulnerable to sea-level rise. In the worst-case scenario, 93 percent of San Francisco Bay's tidal marsh could be lost in the next 50 to 100 years.
https://www.wildequity.org/wp-content/uploads/2016/01/transparent-logo.png
0
0
Wild Equity
https://www.wildequity.org/wp-content/uploads/2016/01/transparent-logo.png
Wild Equity
2012-05-06 09:50:10
2016-03-31 12:38:50
Turbulent Blue: Connecting the Dots Between Sea-level Rise, Our Beloved Bay and Slowing Global Warming