Wild Equity Ties Antioch and SF Communities, Conservation Struggles Together
The Wild Equity Institute and the Wilderness Arts & Literacy Collaborative ("WALC") at Downtown High School recently completed another successful Endangered Species Big Semester by helping students explore the Antioch Dunes National Wildlife Refuge, learn how environmental justice victories in San Francisco are linked to a fossil fuel power plant construction boom in Antioch, and take action to help the Refuge's endangered species recover.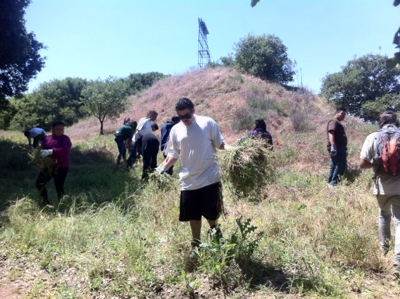 WALC students remove invasive weeds at the Antioch Dunes National Wildlife Refuge.
Invasive weed growth is exacerbated by pollution from power plants that ring the Dunes.
Successful environmental justice campaigns in San Francisco led to the closure of two power plants in San Francisco's Potrero Hill and Bayview-Hunters Point communities since 2006. In part to recoup the power lost when these power plants closed, the California Energy Commission approved five power plants, all ringing the Antioch Dunes National Wildlife Refuge. The concentration of power plants in this location threatens community health and three endangered species found at the Refuge. The Wild Equity Institute is bringing environmental justice advocates and grassroots conservation organizations together to challenge this massive power plant expansion.
On WALC's third and final trip of the Endangered Species Big Semester, students connected our successful struggles for conservation and environmental justice in San Francisco with the new fossil fuel power plants in Antioch, observed endangered species threatened by this proposal, and then took action to help these species recover.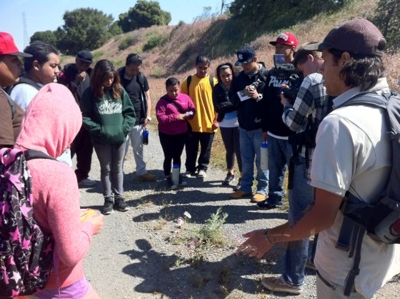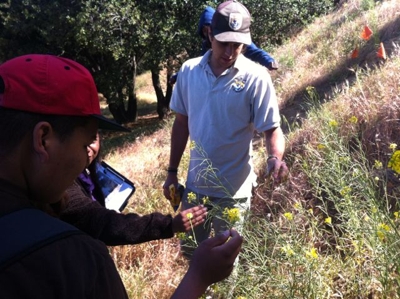 Students learned how to identify the endangered Antioch Dunes evening primrose and the Contra Costa wallflower.
Students were able to meet refuge managers and learn first-hand how the threats facing endangered species can be addressed in ways that build stronger ties to communities that have been traditionally underserved with environmental goods and services. Together, they contributed roughly a weeks-worth of work to the Refuge's limited staff.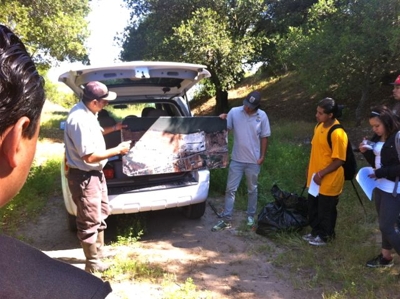 Refuge managers give students an overview of the Antioch Dunes National Wildlife Refuge.
Funded in part by the California Wildlands Grassroots Fund of the Tides Foundation & TogetherGreen (a collaboration between National Audubon Society and Toyota), the Endangered Species Big Semester gives students the chance to observe several of the Bay Area's most imperiled species, and then help these species recover by restoring land, making healthy life style choices, and becoming participants in civic society. Bring the Endangered Species Big Semester to you school by contacting the Wild Equity Institute today.
https://www.wildequity.org/wp-content/uploads/2016/01/transparent-logo.png
0
0
Wild Equity
https://www.wildequity.org/wp-content/uploads/2016/01/transparent-logo.png
Wild Equity
2012-05-04 17:12:21
2020-08-15 16:14:31
Wild Equity Ties Antioch and SF Communities, Conservation Struggles Together