Make Your Tax-Deductible Contribution to WEI Today!
2011 was an inauspicious year for the Bay Area's environmental and justice movements. Park and community service budgets were slashed, and environmentally destructive developments were green-lighted by public officials around San Francisco Bay.
But I know we can reverse this trend if you join the Wild Equity Institute today. On the ground, in the courts, and at City Hall, the Wild Equity Institute succeeded against great odds in 2011. Over 70 different media outlets recognized our efforts this year; Audubon and Toyota gave me one of five prestigious TogetherGreen environmental fellowships in California; and the Sierra Club's Arthur Feinstein observed that our turnout for the restore Sharp Park campaign was "one of the largest the environmental community has ever generated in San Francisco."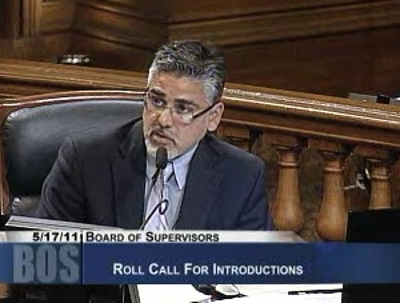 Supervisor John Avalos Helped Us Convince
the Board of Supervisors to Restore Sharp Park
We've built an effective organization. But we're not here to build an organization: we're building a powerful movement that scales-up to the massive environmental threats we face. A movement that creates a healthy and sustainable global community for people and the plants and animals that accompany us on Earth.
Movements aren't defined by organizational effectiveness. They are defined by the inspiration, the passion, and the commitment of the people we serve. That's why we need you to join our movement today with the most generous gift you can provide.
We are on the verge of accomplishing great things. But without you standing by our side, our potential will not be realized. And we are running out of time to build the world we believe in. In spite of our successes, 2011 brought more species to the brink of extinction, and the inequity across our human communities became larger. If our movement doesn't grow quickly, it may soon be too late to make a difference.
That's why I'm urging you to make your contribution to the Wild Equity Institute without delay. Because when you invest in the Wild Equity Institute, you not only get effective campaigns in return—you grow a movement that will ensure these victories aren't snatched away by the 1%. Here are just some of the things your support will accomplish in 2012:
A

GGNP

Endangered Species Big Year — We're providing urban youth who have not succeeded in traditional classrooms an opportunity to see and help save the GGNRA's endangered species, while discovering the enviornmental justice concerns that led to the creation of this great national park. But if we don't raise another $1,000 by the end of the year, we will have to cut-back on the prizes and events that made this program so special in 2011. Each event builds our movement's constituency, making this funding more urgent then ever.
| | |
| --- | --- |
| Sharp National Park — While the Mayor vetoed our legislation, he can't stop our movement. Soon the golf developers' tenuous grip on public officials will be overwhelmed by our rapidly growing movement. But we need your support to win our cutting-edge litigation and grassroots campaign. Last week, self-described "golf purist" and millionaire Sandy Tatum told the press that "we're going to fight this like hell … and we've got access to money." Unless you stand with us, the 1% will throw their wealth around and take this park from you—so they can continue to play a game on your dime. | |
Imagine the world we will build together: a more equitable world for people and the plants and animals that accompany us on Earth. Thank you for supporting the Wild Equity Institute today!
Sincerely,

Brent Plater
Executive Director



https://www.wildequity.org/wp-content/uploads/2016/01/transparent-logo.png
0
0
Wild Equity
https://www.wildequity.org/wp-content/uploads/2016/01/transparent-logo.png
Wild Equity
2012-01-03 18:36:53
2016-03-31 12:38:30
Make Your Tax-Deductible Contribution to WEI Today!