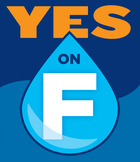 Hetch Hetchy Valley in Yosemite National Park was one of John Muir's most treasured landscapes. But in one of San Francisco's greatest environmental transgressions, a century ago the City built a dam across the Valley, and has been using a huge swath of the National Park as a water storage reservoir ever since.
Today San Francisco's water supply system needs billions of dollars in upgrades, and that's why it is the perfect time to start planning to improve San Francisco's water conservation measures and investigate the possibility of restoring Hetch Hetchy Valley. That's what Proposition F will encourage San Francisco to do, and that's why the Wild Equity Institute strongly urges San Francisco voters to VOTE YES on Proposition F on November 6, 2012.
Proposition F is a forward-looking measure which calls on San Francisco to be more reliant on renewable, local water supplies, to recycle more of our water, and to encourage the use of reclaimed "greywater" by homes, businesses and local government. By decentralizing water delivery, we will reduce our dependence on faraway water sources that are jeopardized by climate change, and we can empower all San Francisco residents to take control and responsibility for this essential resource.
Opponents of this simple planning proposition have resorted to scare tactics to defeat it. This debate on KQED's Forum between Mike Marshall of Restore Hetch Hetchy and San Francisco Supervisor Scott Wiener highlights many of these scare tactics. The Wild Equity Institute urges you to listen to Mike Marshall debunk these scare tactics so you can hear how sensible Proposition F really is. A few key points:
Proposition F will have no impact on Camp Mather. Opponents of Proposition F have claimed that concrete from the decommissioned dam will be dumped on Camp Mather, a beloved recreation area owned and operated by San Francisco. But Proposition F doesn't even require the dam to be removed, and certainly doesn't require concrete to be taken from its existing location and dumped on Camp Mather. The only thing Proposition F requires is to study the possibility of restoring Hetch Hetchy Valley, so that we can make informed decisions about the future of our water supply before billions of dollars are poured into the status quo.
Proposition F will not disproportionately impact the poor. The Wild Equity Institute spends each day redressing inequities across our human communities, and would never support a proposition that would exacerbate this concern. But some opponents have argued that Prop. F will raise water prices on the poor. There is no evidence indicating this would be the case, but if higher water rates are a possibility, that proves why Proposition F's planning requirements deserve your vote. Only through Proposition F will San Francisco devote the thoughtful planning and oversight needed to understand this concern. If making environmental reparations is determined to be a lower priority than keeping water costs below market rates, Proposition F allows San Francisco to ultimately decide against restoring the Valley. Alternatively, it allows us to mitigate any increased costs that the City's poor might otherwise unfairly bear, while still obtaining the environmental benefits restoring the Valley can provide. These benefits could be significant: existing studies indicate that there could be a multi-billion dollar net benefit to restoring the Valley from job creation, increased tourism, and environmental benefits.
Proposition F will not make San Francisco's electricity less 'green'. Some have suggested that the dam and reservoir that destroyed Hetch Hetchy Valley should remain because it delivers 'green power' to San Francisco. But this is deceptive in two ways. First, the resevoir does not generate any electricity. The water in the reservoir, when released, does travel downstream through power generators that are fed by several different reservoirs. But that will not change if the Valley is restored—water will still run downstream through these facilities. Second, it borders on absurd to call any power generation that occurs through the desecration and destruction of the world's most famous and iconic National Park 'green' energy.
For all these reasons, Wild Equity Institute urges all San Francisco voters to vote Yes on Proposition F on November 6, 2012!
https://www.wildequity.org/wp-content/uploads/2016/01/transparent-logo.png
0
0
Wild Equity
https://www.wildequity.org/wp-content/uploads/2016/01/transparent-logo.png
Wild Equity
2012-10-15 13:29:56
2016-03-31 12:38:35
Vote Yes on Prop F, SF!