Wild Equity staff participated in a very special event on Saturday, June 7: the release of five juvenile Black-crowned Night Herons, four of which were injured in the Oakland tree trimming incident last month. The event was hosted by our partner Golden Gate Audubon Society as well as International Bird Rescue, the organization that has been caring for the birds since the incident.
Bird lovers, conservationists, and members of the press gathered to watch young members of GGAS' education program release the birds into a habitat area at the Martin Luther King, Jr. Regional Shoreline park in Oakland.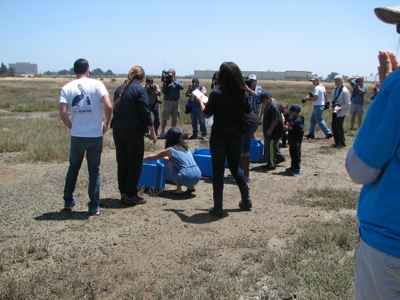 Members of GGAS' youth education program prepare to release the birds.
Photo: Laura Horton, Wild Equity.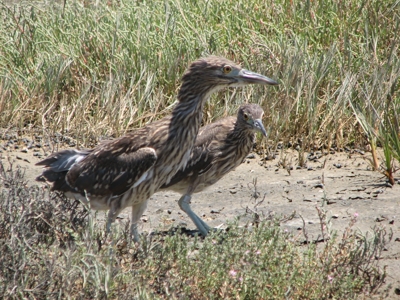 Two Herons check out their new surroundings. Photo: Laura Horton, Wild Equity.
GGAS' new Executive Director also took the opportunity to spread the word about their new brochure offering advice to both professional tree trimmers and backyard gardeners about taking care to avoid situations like the one in Oakland.
The U.S. Fish and Wildlife Service, apparently kowtowing to political pressure from an anti-environmental congressman, dropped charges against the tree trimmer hired by the U.S. Postal Service, and has not prosecuted the Postal Service at all. Although the Migratory Bird Treaty Act clearly prohibits harming or disturbing migratory birds and their nests, the Fish and Wildlife Service often uses its discretion in making enforcement decisions. However, Wild Equity requested information from the Postal Service under the Freedom of Information Act regarding the incident, which will help shed light on the agency's involvement. In light of the clear MBTA violations, Wild Equity will be seeking full prosecution for those responsible.
In 2012, Wild Equity petitioned the Fish and Wildlife Service over its disastrous nest destruction policy. The policy allows and even encourages the destruction of inactive nests (nests without birds or eggs). The result of the policy is inconsistent enforcement between inactive and active nests and broad latitude for those with no biological background or understanding of birds to decide whether a nest should be destroyed. Wild Equity urged the Service to establish a consistent policy that clearly requires a trained biologist to assess an area and a permit to be issued before nests are destroyed, whether active or inactive. The inconsistency in policy and enforcement has led to countless incidents of bird nest destruction and bird disturbances.
Learn more about the petition here, and come see Wild Equity Staff Attorney Laura Horton give a talk on Wild Equity's migratory bird work on Sunday July 20 at the Unitarian Universalist Church at 9 am. Event details are here.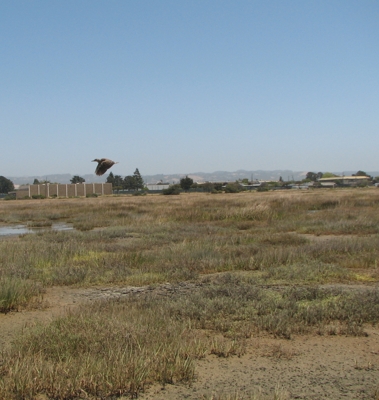 One of the released Herons. Photo: Laura Horton, Wild Equity.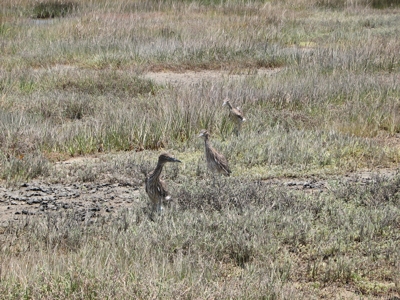 Three Herons still not quite sure what to do. Photo: Laura Horton, Wild Equity.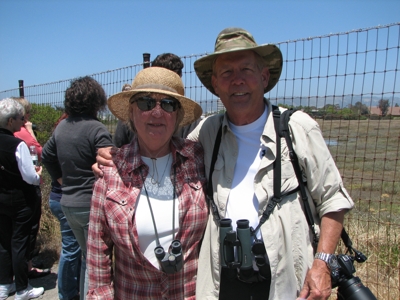 Staff members ran into Wild Equity supporters Tom and Diane! Photo: Laura Horton, Wild Equity.
https://i0.wp.com/www.wildequity.org/wp-content/uploads/2014/06/herons-featured.jpg?fit=1500%2C430&ssl=1
430
1500
Wild Equity
https://www.wildequity.org/wp-content/uploads/2016/01/transparent-logo.png
Wild Equity
2014-06-10 22:46:57
2020-08-15 17:58:27
Wild Equity Participates in Release of Injured Baby Herons, Seeks Full Prosecution for Incident