Wild Equity to Discuss Migratory Bird Nest Protection in the Wake of Oakland Heron Disaster
Staff Attorney Laura Horton will give a talk on Wild Equity Institute's migratory bird work on Sunday, July 20, 2014 as part of the Unitarian Universalist Forum series. Laura will discuss the U.S. Fish and Wildlife Service's nest destruction policy, which has led to the destruction of countless migratory bird nests since it was enacted in 2003. This issue was recently spotlighted after an appalling encounter between the U.S. Postal Service and baby black-crowned night herons in Oakland.

The horrific scene in Oakland, where tree trimmers hired by the Postal Service fed branches full of heron nests and chicks into a wood chipper, sheds light on the Fish and Wildlife Service's disastrous policy. Witnesses say baby birds were falling out of the trees and that there were significant injuries of the birds and disturbance of their nests. The Fish and Wildlife Service has stated that it is investigating the incident.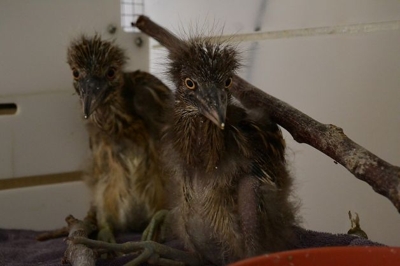 Baby Black-crowned Night Herons being cared for at International Bird Rescue center in Fairfield.
Photo: Isabel Luevano, International Bird Rescue

Killing and injuring migratory birds and destroying their nests is illegal under the Migratory Bird Treaty Act ("MBTA"). However, the Fish and Wildlife Service's nest policy incorrectly interprets the statutory language of the MTBA by unlawfully distinguishing "active" from "inactive" nests. The policy allows and even encourages the destruction of inactive nests (nests without birds or eggs), even if the nest is being used as shelter or a bird returns to the nest each year. The result of the policy is inconsistent enforcement between inactive and active nests and broad latitude for those with no biological background or understanding of birds to decide whether a nest should be destroyed.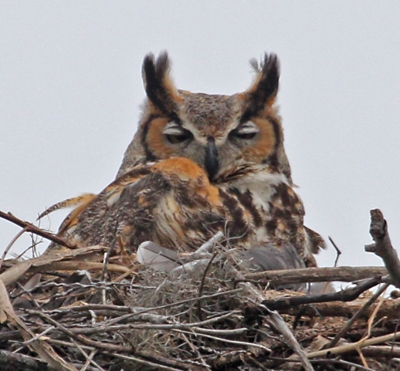 This Great Horned Owl in an empty Osprey nest shows that a seemingly unused nest
may still be used as shelter by other birds. Photo: J.D. Phillips.

In July 2012, Wild Equity asked the Service to establish a consistent policy that clearly requires a trained biologist to assess an area and a permit to be issued before nests are destroyed, whether active or inactive. Wild Equity filed a formal administrative petition with the Service urging it to change its policy. In December 2013, the Fish and Wildlife Service sent Wild Equity a letter rejecting the petition, citing limited resources and policy disagreements as the reasoning. However, the Service did say it was "reviewing options for enhancing protection for nests of cavity-nesting species, such as the burrowing owl (Athene cunicularia)," and that Wild Equity's regulatory suggestions were "helpful in this regard, and [the Service plans] to give them further consideration."

Wild Equity is currently reviewing the Service's response to the petition, as well as the investigation into the Oakland incident, and will be taking further steps to avoid this kind of situation in the future; stay tuned for future updates and opportunities to get involved.

Laura's talk will take place on Sunday, July 20 at the First Unitarian Universalist Church, 1187 Franklin Street at Geary, Martin Luther King Room at 9:30 AM. Check the Wild Equity calendar or contact lhorton@wildequity.org for more details.
https://i0.wp.com/www.wildequity.org/wp-content/uploads/2014/05/baby-herons-featured.jpg?fit=1497%2C430&ssl=1
430
1497
Wild Equity
https://www.wildequity.org/wp-content/uploads/2016/01/transparent-logo.png
Wild Equity
2014-05-22 16:59:04
2020-08-15 18:04:27
Wild Equity to Discuss Migratory Bird Nest Protection in the Wake of Oakland Heron Disaster